Apptivo V6 isn't an overhaul of everything you thought you knew about it. Rather, it's a refinement and extension of the core features and functionality of Apptivo V5. In this Apptivo V6, take a look at the major features where it hits and where it has room to improve. We have added some features that saw light with update to Apptivo V6 including Currencies, Auto Copy Email and Single Sign on. Every new feature updated is time effective and increasing the business intelligence for users.
Currencies
Currencies option in business setting is to create multi-currency by which interaction with businesses in other regions by switching certain apps to use their currency. The multi-Currencies inside this business setting reflects in the following apps: leads, opportunities, invoices, estimates, work orders, supplier invoices, sales receipts, and Credit Notes.
Every App has a Currency field that specifies the currency type for amounts in that record. In earlier version apptivo supports only code of the currencies, now in v6 version of business setting serve both code and symbol of currencies. User can use choose the format of the currencies under "Currency Format" drop down according to their requirements. Created currency could be disabled/enabled using toggle button against each currency.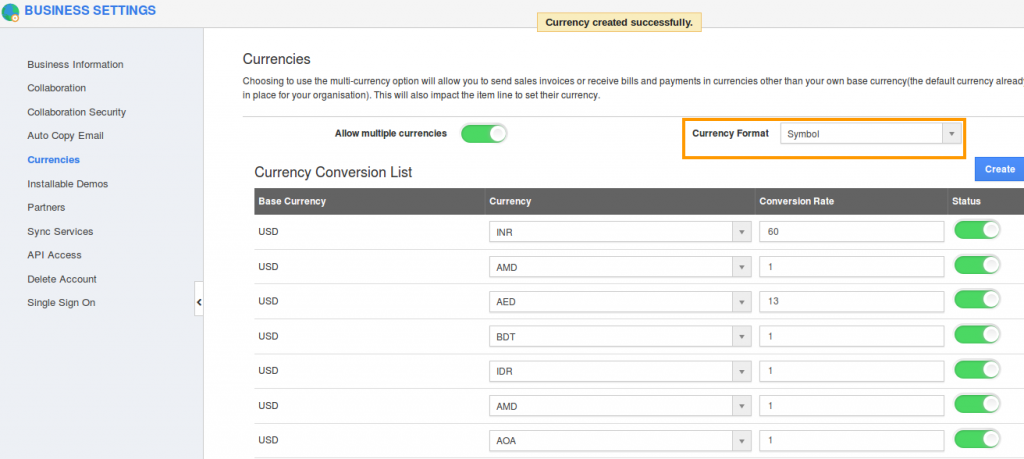 Auto Copy Email
Auto Copy Email allows you to quickly configure the auto copying sent emails. Whenever you need the backup of sent emails, you can enable the "Auto Copy Email" option wherein your email id(email address used for login) will be added in "cc" field automatically while composing a new mail. This feature applies in both homepage and in other apps email tab. With this add on, you can get an automatic copies sent for all your outgoing messages timely, accurately and flawlessly.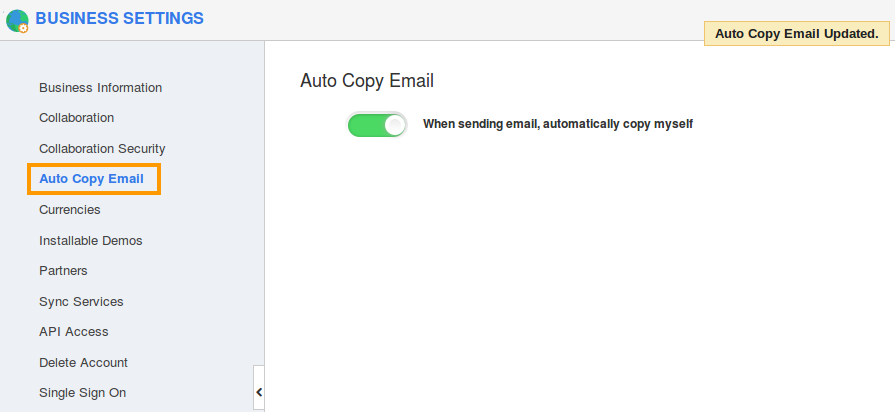 Single Sign On
Apptivo's third party integration with "Onelogin" is an updated and adapted version needed to your business. To provide end-to-end solutions to customers Apptivo integrate multiple backend systems and applications. One among them is "Single Sign On" which allows apptivo to be integrated with onelogin using their Authentication URL. After successful integration, onelogin portal can be accessed through "Login Success URL" that gives users one-click access to all their web apps including Apptivo in the cloud and behind the firewall – via desktops, smartphones, tablets.