Well, we apologize about the lack of updates recently. We've been a bit secretive the last few weeks, because we've been working on some BIG changes. Over the next week, we'll be announcing further details and giving previews into new major new initiatives: Xinnect & V5. We can't tell you too many details quite yet, but we can tell you these will change the way you think about business software. See below for a quick teaser about the upcoming features.
But, of course, we've been hard at work performing many small enhancements & bug fixes requested by the community. You can see a summarized list of all changes performed below, which includes changes across the entire platform. Before we get started, here is a quick teaser of the settings area in the upcoming "Version 5″ apps.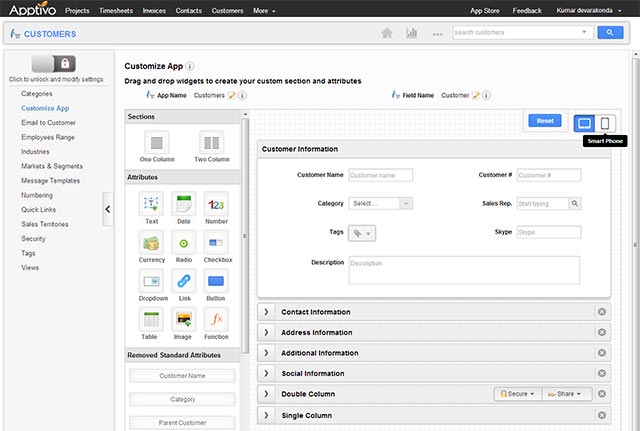 Cool Features We Are Working On
As mentioned, we've got a couple great projects in the pipeline right now. Over the next two week's we'll be posting more blogs which give a complete preview of whats to come. We are extremely excited to announce our V5 iniative, which offers a multitude of great new features such as the ability to change the name of an app, delete standard fields, configure both a desktop & mobile interface for the apps, choose the desired columns of data to show for any search, and much, much more! Stay tuned for a complete list of V5 features coming next week, in the meantime here is a quick overview of the big items coming up.
Version 5 – A massive group of enhancements coming to ALL apps!
Xinnect – Connect with other businesses & collaborate
Google Merchant Center Integration – Publish product data to Google
IMAP Email Enhancements – View other employee's email, view sent mail, etc
More Mobile Apps – Including cases, work orders, projects, invoices, and more.

These are just some the most significant features in the pipeline, many other enhancements to come as well!
New Features Released
Google Apps Contacts Sharing system optimized for all around better performance & reliability. The system still functions the same way to the end-user, but customers should notice decreased sync times, and a simpler import process.
Customers can now pay for their Apptivo account using PayPal or a credit card.
When viewing your main "Email" tab, users who have connected their IMAP email account will now see their complete inbox. From here, you can easily select any mail, and then associate it within any app inside of the system.
When emailing an invoice to a customer, you can now include the complete details within the email itself, in addition to the standard PDF attachment.
Users can now track sales in multiple different currencies. The opportunities app now has a setting to enable multi-currency. Once enabled, you can type in a value & select the currency type for each individual opportunity.
New "Timesheet Template" feature to create a timesheet with a standard set of tasks. Also included new timesheet reports & views for managers to more easily access their employee timesheet data.
Minor Enhancements & Bug Fixes
Date selectors will now reset properly after pressing "create & new" for a task.
When drafting an email, the address of the person sending will no longer appear in the "to" field, it will be included in the "cc" field.
When sharing a "checkbox" custom attribute from from app to another, the values will now save properly.
When recording a payment for an invoice, the "mark as paid" option is always checked by default.
Fixes to retain proper assignment/status/dates for tasks & milestones within project templates.
Certain views which could not be disabled previously, will now work fine when disabled from within the app settings.
When doing a keyword search, you can now enter very long searches. Previously searches were limited to ~50 characters.
When modifying an existing note created by a different user, the author of the note is retained properly, and we also show the "modified by" details as well.
Surveys app temporarily removed from the app store
Resolved an issue where certain tasks would be hidden from the table view of tasks, but would appear fine in list view, or when running a search.
When uploading data you are now allowed to select the separator (like comma, semi-colon, tab, etc), as well as several error handling improvements.
During uploads you can also now include entries to notes. Up to 10 note entries are accepted.
When changing the start date of any task/appointment/etc, we will now automatically update the end date… if you had selected a start date that occurred after the end date.
Various enhancements to manage the shipping, inventory control, and invoicing for sales orders.
Users can now manually update the status of any candidate from the candidates or recruitment apps. You can control the available statuses within the candidates app settings.
Users can now clear the end date if already set for an existing recurring invoice, to make the invoice recur indefinitely.
Users can now delete payments recorded against an invoice. If a payment is recorded by accident, or incorrectly, it can be deleted, and the invoice status can be set manually when deleting.
The notes to customer field will now properly show line breaks in the estimates app.
Resolved issue when re-ordering the values under an item's bill of materials.
Line breaks added to the notes area of an estimate will now appear properly on the generated PDF file.
The invoice 360 degree view tab will now display the Kit Work Order it was generated from.
Activities & tasks added to a project template will be hidden from any of your homepage dashboard.
Users can now control the font size within the text editor when writing emails anywhere in the system.