The Question:
I noticed there is a tab on my opportunities that allows me to associate a project. Why would I want to associate a project to an opportunity, when a project indicates a deal has already closed and we are fulfilling the order?
The Answer:
While your assumption was quite correct in most cases, there are indeed some scenarios in which you'll have an active project for a sales opportunity before you close the deal.Many times in business you'll be forced to begin working on some initial discovery or research work before you can properly give a quote and work to close a deal.  Creating a project to manage these activities will let you track the time spent so you can bill for it later on once the deal is actually closed.
Another scenario where you may want to create a project for an opportunity would be if you need to run an internal project that provides supporting activities for this sale.  For example, maybe you need to develop some internal processes, or develop a new piece of technology in order to take on this deal.
If your company runs into one of these scenarios, you'll first want to go to the Projects app and create a project.  Once the project is created, you'll need to assign activities to the project so they can be selected from the opportunities app.
Once these initial setup steps have been completing, adding the tasks to your opportunity is simple.  Start off by logging into Apptivo, going to the Opportunities App, and viewing the opportunity you want to modify.  Now click on the Projects & Tasks tab.

A popup window will now open, and you'll need to search for the project you created.  Once you find the project desired, click on the radio button in the "Select" column, then click on the green "Next" button to proceed.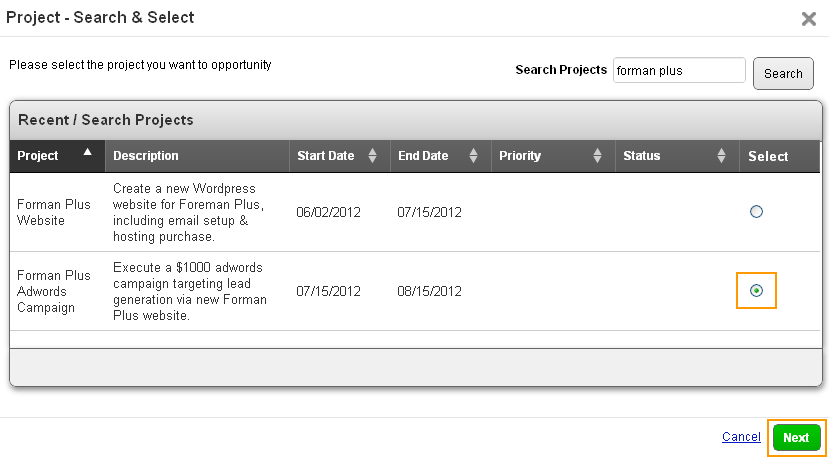 After selecting the project, you'll be presented with a list of activities available in that project.  Now we will check the box next to each task we want to add to the opportunity.  We can also define the amount of estimated hours, and the billing rate which is expected.  Once all of your tasks are selected, click on the green "Next" button to add the tasks to the opportunity.
Back to Getting Started page