Apptivo has released the latest product updates for April. Our team of engineers has worked tirelessly to present the best features in the market. This update has launched new features that are definitely a value-add for our customers. Focused priority has been given to every App of Apptivo to make the user experience exceptional.
Updates and Enhancements
Download Sales Receipts
Create Activities using Triggers
Embed Videos in Email Templates
Update Opportunities from the Invoices App
Multi-Folded Export in the Contacts App
Kanban Views in Projects App
New Feature to manage Industries
New Feature to manage Categories
Custom Views in Suppliers App
Manage Properties in Contact Center App
Disable Email-Embed Templates
Download Sales Receipts
Sales Receipts are necessary to keep track of the revenue and expenses for any business. Apptivo generates a sales receipt for the plans purchased by its users. Henceforth, you can download a copy of the Sales Receipts within your Apptivo account for offline and taxation purposes.
For detailed steps, click here.
Create Activities using Triggers
Automation has brought tremendous changes to the IT world. It enhances humans' ability to look into newer possibilities. Staying in tune with the trend, Apptivo had introduced the Triggers feature across all the applications of Apptivo. While creating any record, you might need to perform specific activities like Tasks, Events, and Notes. It becomes complicated when it includes numerous records. By configuring triggers, you can now quickly have tasks, events, and notes created with minimum human interference.
To have an overview of the feature, click here.
Embed Videos in Email Templates
Campaigns App of Apptivo offers different templates to streamline your Campaigns to the target audience. With the latest update, you can embed videos into the email templates. You can make use of the Video Widget to add the URL of the video to the template. In addition, you can also add different thumbnails for the videos.
To have a quick look at the feature, click here.
Update Opportunities from the Invoices App
The latest update in the Invoices App allows users to add the attributes of the Opportunities App by selecting Update Associated Reference App Attributes to trigger an action. You can set the criteria when the action has to occur in the Opportunities App. With this feature, you can now have the information updated in the Opportunities App whenever an Invoice is paid or partially paid, etc as per the configuration in the triggers.
Click here to learn more.
Multi-Folded Export in the Contacts App
Contacts App of Apptivo enables the users to manage all the contacts connected to your business. With the Bulk Actions feature available in the Contacts app, you can perform various actions for multiple records at a single time. You can bulk update the attributes in the Contacts and also export them at the same time. With the latest update, you can export more than 50,000 contact records at a single click. You will also receive an email notification once the export is complete.
Click here to know more.
Kanban View in Projects App
Kanban or a Bird-Eye view is psychologically proven to be a success as it allows the users to have a clear spectrum of the status of their projects. This card view is preferred by businesses to track their projects and stay updated. This enhancement allows the users to configure the Kanban View as a default layout. This layout can now be applied to both the Standard and Custom views of the Projects App.
To configure your default layout, click here.
New Feature to manage Industries
Organizing information about your customers is a primary need. Businesses involve communication with Contacts, Clients, Leads, and Opportunities belonging to different Industries. When your agents are aware of the business to which the customers are associated, it becomes easy to have a strong foothold. You can now delete the industries that aren't needed for your business with our latest update. Apptivo lists out all the Industries present. If a specific industry is not needed, you can have it removed.
For more details, click here.
New Feature to manage Categories
Categories feature is added to Apptivo with the purpose of having a compact business management. With categories, you can smartly get your records organized and retrieve the information at ease when needed. The latest update allows you to delete the categories created. You can easily delete the categories that are not in use or added by mistake. With this, you can have a well-defined categories list in your Apptivo Apps.
Click here for detailed information.
Custom Views in Suppliers App
The View Builder feature enables you to view the records based on the filters present in Apptivo. This will assist in having a compact and narrowed view of the records. Along with the standard views provided by Apptivo, you can also create Custom Views. Custom Views can be utilized to create a completely personalized view as per your criteria. Moving forward, you can create custom views in the View Builder of the Suppliers App. You can now view the Suppliers data with the custom created filters.
To create a custom view, click here.
Manage Properties in Contact Center App
Contact Center App is a distinct software developed to provide the best customer experience for your customers. Apptivo is well known for its integration facility. If you have the Contact Center App, you can easily place calls from the CRM Apps of Apptivo on a single click. Extending this feature in Contact Center App, you can now retrieve the Property information while making calls from the CRM Apps of Apptivo. You can both create and manage the Properties during calls. This will improve the CSAT rate and Resolution time.
Click here to see how it works.
Disable Email-Embed Templates
The Finance department of an organization is of utmost importance as it plays a major role in revenue management. The primary applications in the finance category of Apptivo are used to generate Invoices, Estimates, and/or Work Orders and send them as an email to the customers. Now, while sending an email, you can disable the email-embedded templates and instead, you can just attach the Invoice, Estimate, or Work Order as a PDF.
Click here for detailed instructions.
Our efforts have always been focused to provide a seamless user-experience that adopts any business.
Stay tuned for more updates in Apptivo from our BLOGS and ANSWERS.
Apptivo Product Updates as of April 20, 2020
was last modified:
December 14th, 2022
by
Release Notes - September 27,2023
Our commitment to delivering top-notch software is unwavering. We understand that every piece of code can have its quirks, and we're dedicated to continuously enhancing your experience
Read more

→
Top 10 Customer-Centric Field Service metrics: What matters most?
1. What Are Field Service Metrics? 2
Read more

→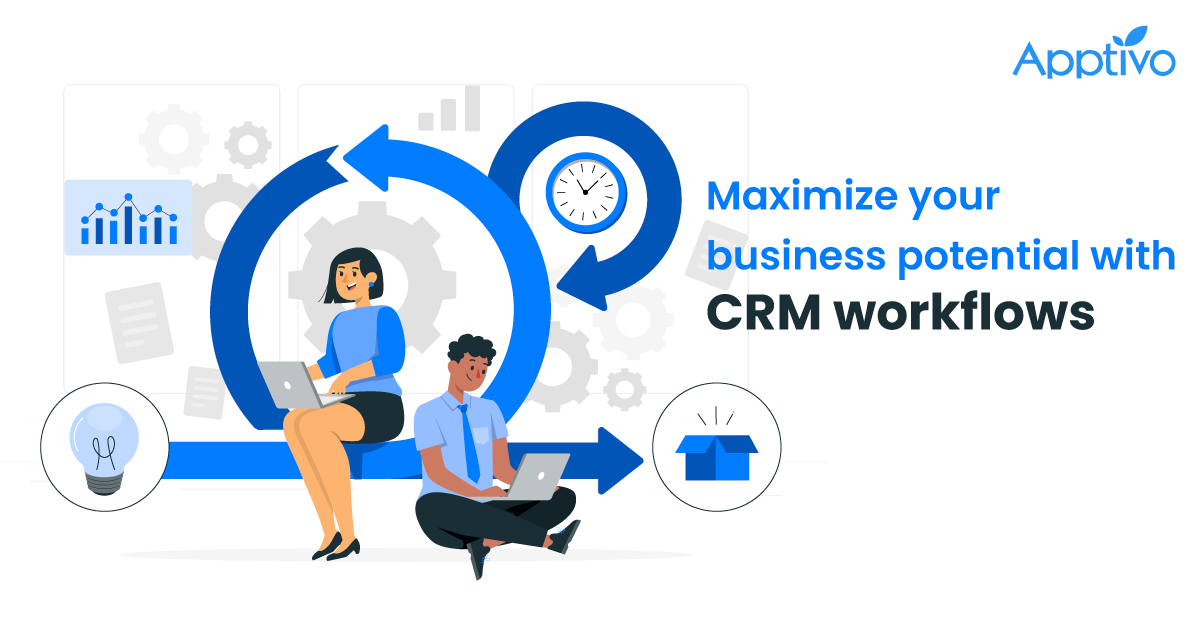 What is a CRM workflow? The Right Way to Boost Productivity and Sales
1. Understanding CRM Workflows 2
Read more

→