We are happy to catch you all with a new set of features deployed in this release. It has been a long time, and we are working tireless, to make your day-to-day experience with Apptivo more productive! Take a quick look into the article to know more about the features that are enhanced and implemented as Product Updates as of April 25, 2019 – CRM, Financials, Supply Chain, & General.
IMPLEMENTATIONS AND ENHANCEMENTS:
Customer Sync in Xero
Set Privilege for Export
Recurring Supplier Invoices
New design for the Invoices Template – Firm Specific
Adding similar Items
Case Limitation
Bulk Export of the Intelligence Dashboard
Convert Table into Form Layout
Function Attribute support for Line level
FINANCIALS:
Customer Sync in Xero:
Xero is a cloud-based accounting software that was developed specifically for small and medium-sized business. You can integrate the Apptivo Invoicing app with Xero. You have first to authenticate the integration and then sync the records to import them into the Apptivo's invoicing software. You can now sync the customers from the Apptivo Account to your Xero Account as contacts.
Learn more about integrating Xero and Apptivo from our help articles.
Set Privilege for Export:
Projects app allows you to export projects into a spreadsheet. Additionally, you can also export the current fields and even with all attributes. One of the remarkable features of this release is setting privilege for the Export option in the Projects App. You can now set the privilege in the Project app to export the projects accordingly.
Get to know how to create a privilege to export by clicking here.
Recurring Supplier Invoices:
Recurring Supplier Invoices are flexible in letting you decide whether Supplier Invoices are emailed out automatically. Send a Supplier Invoices to your customers on a regular interval for the same amount of product/services provided. Enable the Recurring Supplier Invoices to generate a new Recurring Supplier Invoices for the Customer. This is one of the long-awaited features that has gone through in this release.
Dive into our help docs to know how to set up and create Recurring Supplier Invoices.
New design for the Invoices Template – Firm Specific
We have designed a new Payroll Invoices Template for one of our Customers. Invoices App offers a great new tool that allows you to create your custom templates which will be used to generate PDF versions of your invoices. By default, Invoices App has sections for Tasks, Projects, Items, Timesheets, Work Orders Milestone, and delayed invoices. You cannot remove these standard sections from PDF, but these sections will not be displayed in PDF if it does not have data on it.
Widen your knowledge on designing your own templates from our help articles.
SUPPLY CHAIN:
Adding similar Items:
A paramount feature that has been moved this deployment, is the access to add the same items in the line level in Orders App. It's vital for any Business to provide Items/Products promptly to the Customer based on an order placed by them. Duplicating Items has now become available to achieve this.
Learn how to create an Order with the same items in our articles.
CRM:
Case Limitation:
Apptivo provides the ability to add third-party customers to their cases, giving them a separate login so they can view the progress of their existing case details from their account and even create their cases using the Apptivo Customer Portal in the Cases App. This feature of Support Plans gives you the ability to define the limit of the case created by the Customer, based on the support plan provided. The first feature that has been enhanced is the automation of the Support Plans to limit the cases created.
Limit the cases that are assigned from the steps given in our article.
Bulk Export of the Intelligence Dashboard:
Apptivo Intelligence Dashboards allows you to present your business information, attaining a new perspective, and share it with employees and teams. You can create such dashboards using custom reports and charts.
Every one of us had come to a point, where we demand actions to be done a single step. The Opportunities App gives you the privilege to do Export Bulk Actions from intelligence chart instantly within Apptivo. This lets you to Export the data from intelligence chart.
The article to export the Intelligence charts' data explains the steps to carry out the same.
General Updates:
Convert Table into Form Layout:
Customizing the master layout to our usability is one of the most significant advantages in Apptivo. The table sections can now be converted to form sections. The modifications can either be made for viewing or editing the objects. The Form Layout feature is available in all Apptivo Apps.
Go through the steps to make the feature handier from our help articles.
Function Attribute support for Line level:
One of the important and useful custom field in the Master Layout is the Function Attribute. Function Attribute allows you to create a custom calculation based on the value of other fields and displays this calculation on the Creation page. This is now supported for the table sections too.
Learn to configure the function attribute from our support articles.
Meet you soon with the next set of our updates!
Till then, stay tuned for updates in our blogs and posts!
Cheers,
Grace.
Apptivo Product Updates As Of April 25, 2019 – CRM, Financials, Supply Chain & General
was last modified:
June 24th, 2019
by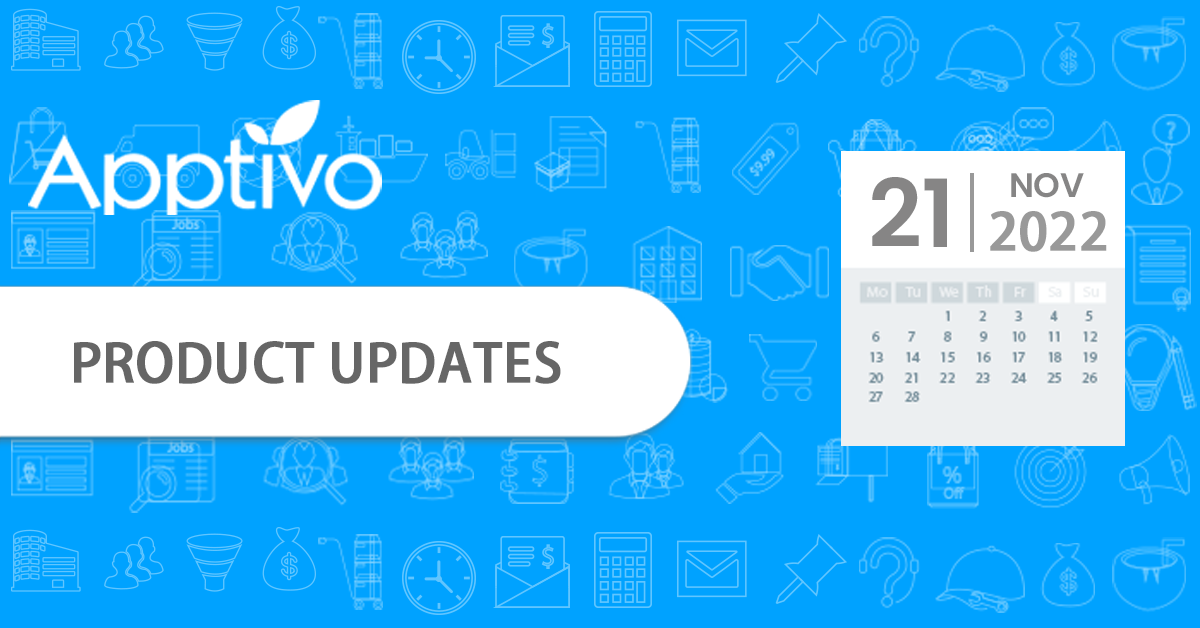 Apptivo Product Updates as of November 21, 2022
Any CRM should aim to advance your business and make work easier. That is why Apptivo develops innovative approaches to make your life easier by introducing fantastic features twice a month
Read more

→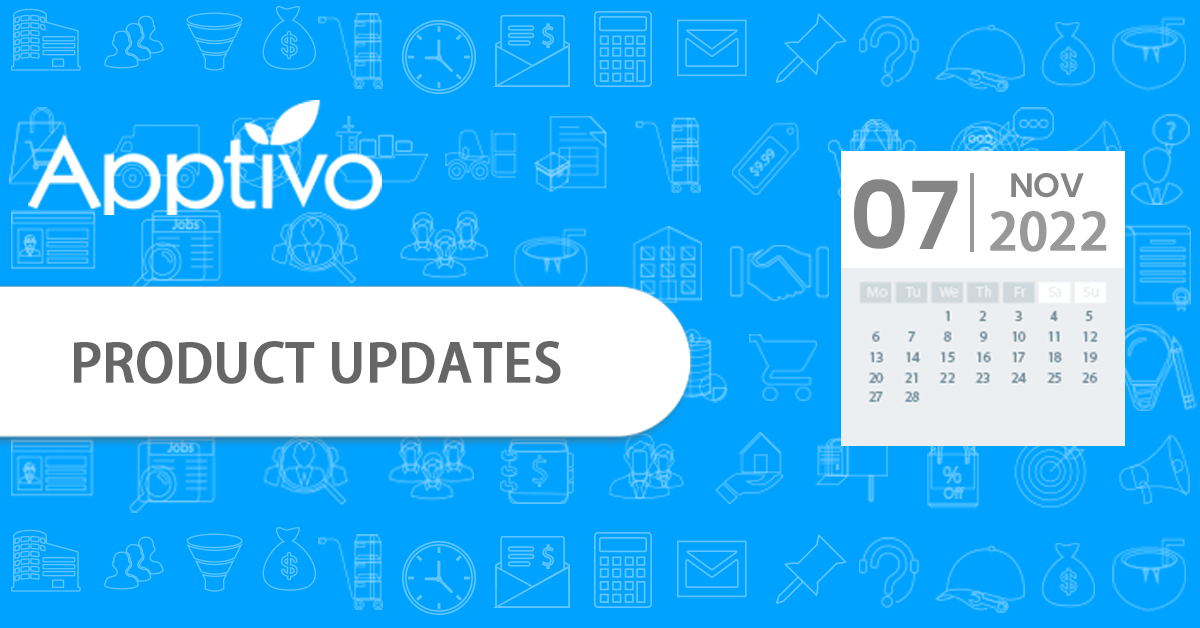 Apptivo Product Updates as of November 07, 2022
Early startups were raised on technology, and to stay up with the rapidly expanding business landscape, they must convert their workforce into digital technology while managing expenses. By providing a wide range of integrations and first-rate customer service, Apptivo is here to take care of businesses of all sizes
Read more

→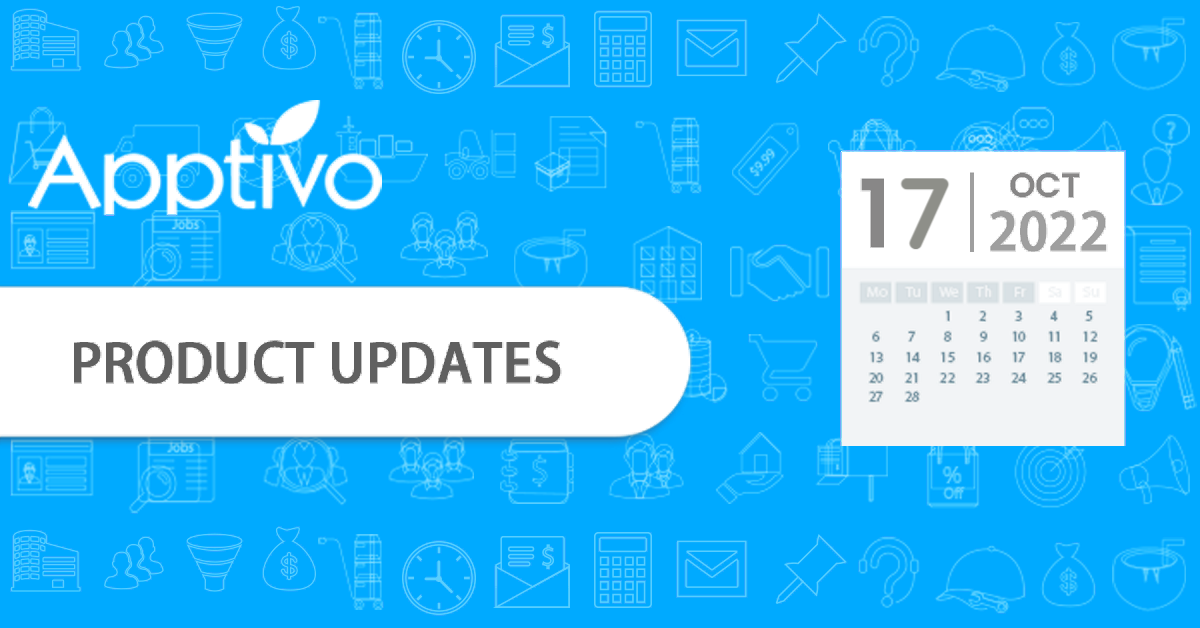 Apptivo Product Updates as of October 17, 2022
We're beyond thrilled to announce our new features this week! This further validates Apptivo as the go-to solution for your booming business. We're always enthusiastic when it comes to providing our customers with the finest features and boundless services
Read more

→