Implementations and Enhancements
Export Custom table attributes
Custom Ref App in 360 view
Items Sales By Category report in Invoices app
Enhanced Estimate conversion
Bulk Void Invoices
Row-level preview in the table section
Unique Line Number Generation
Barcode Generation
Export in Target Lists
Contacts Enrichment
Force syncing emails
Advanced Search of Ref App fields in the date range
CRM
Export Custom table attributes
One of the major releases made is the export option which includes standard and custom table attributes. You are given the choice of exporting the data with the current view, or with all the fields that exclude table and includes the table in the Contacts App.
Custom Ref App in 360 views
You can view the associated data of the standard ref app and custom ref app in a 360-degree tab. Now the 360 Degree Association toggle is supported in Opportunities, Projects, and Invoices App.
Financials
Items Sales By Category report in Invoices app
The Invoices can now be listed based on the item sales by category. This is one of the new features implemented in this deployment. This report can bring out all the items based on the category, status and filtered based on any specific time span.
Enhanced Estimate conversion
The estimates can be converted any number of times using the custom conversion. Allowing custom conversion for multiple times is an important enhancement in the Estimates App.
Bulk Void Invoices
We have implemented the feature of voiding the invoices in bulk. This saves you time and makes it more productive.
Row-level preview in the table section
The Row-level Preview option for the line level sections is now implemented in Apptivo. Once the preview option is accessed, you can view and edit the line level attributes in the side panel pop-up.
Supply Chain
Unique Line Number Generation
Creation of line numbers is enabled with the use of the counter attribute in the line level. You can now automatically generate line level numbers in the Purchase Orders and the Orders App.
Barcode Generation
Generating barcode can be used to scan the generated barcode from the printed Purchase Orders or Orders and it would deliver the purchase order or order number to the device that it is connected to. Generating barcode in one of the most awaited features implemented in Apptivo.
Export in Target Lists
The export option is now added to all the tabs in the Target App. All data in the Targets App can be exported by segregating them.
Collaboration
Contacts Enrichment
Any contacts that you save in the Contacts App can be enriched with additional information using this feature. This enables you to enrich the contacts' details.
Force syncing emails
You can force the IMAP syncing using this feature when the email sync fails in Apptivo. This is one of the long-awaited features in Apptivo.
General Updates
Advanced Search of Ref App fields in the date range
We have enhanced the advanced Search option by extending it to search the ref app field data in the date range formats(Date format, Date and Time format).
Catch you shortly with the next set of our updates in Apptivo!
Till then, stay tuned for updates in our blogs and posts!
Cheers,
Grace
Apptivo Product Updates As Of June 14, 2019 – CRM, Financials, Supply Chain, and Collaboration
was last modified:
July 4th, 2019
by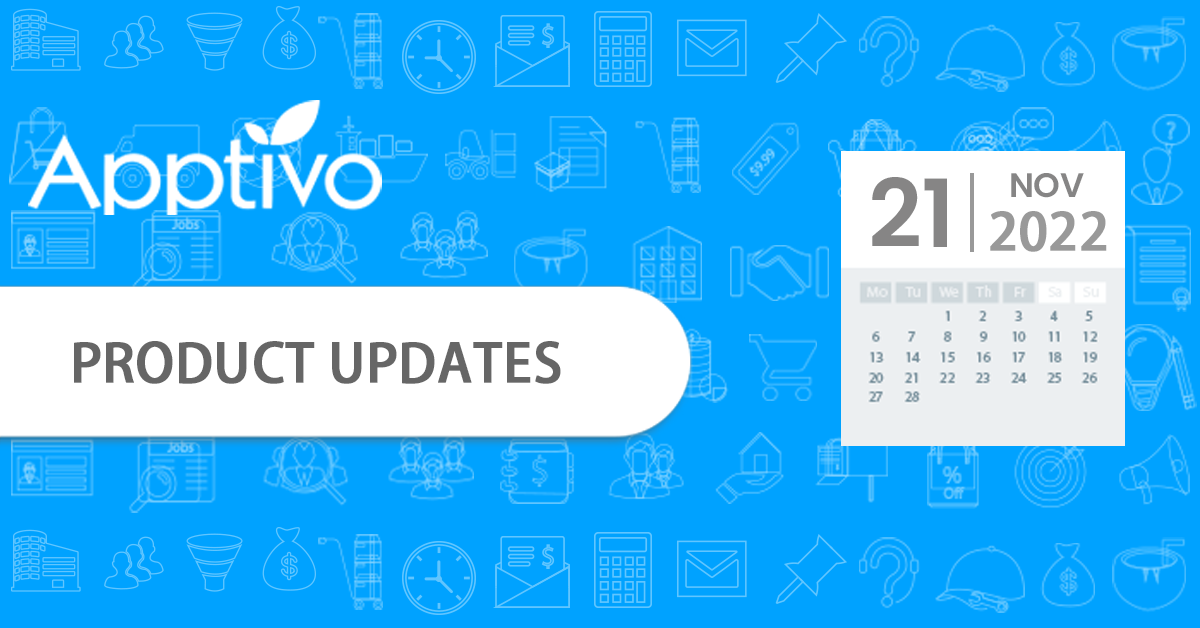 Apptivo Product Updates as of November 21, 2022
Any CRM should aim to advance your business and make work easier. That is why Apptivo develops innovative approaches to make your life easier by introducing fantastic features twice a month
Read more

→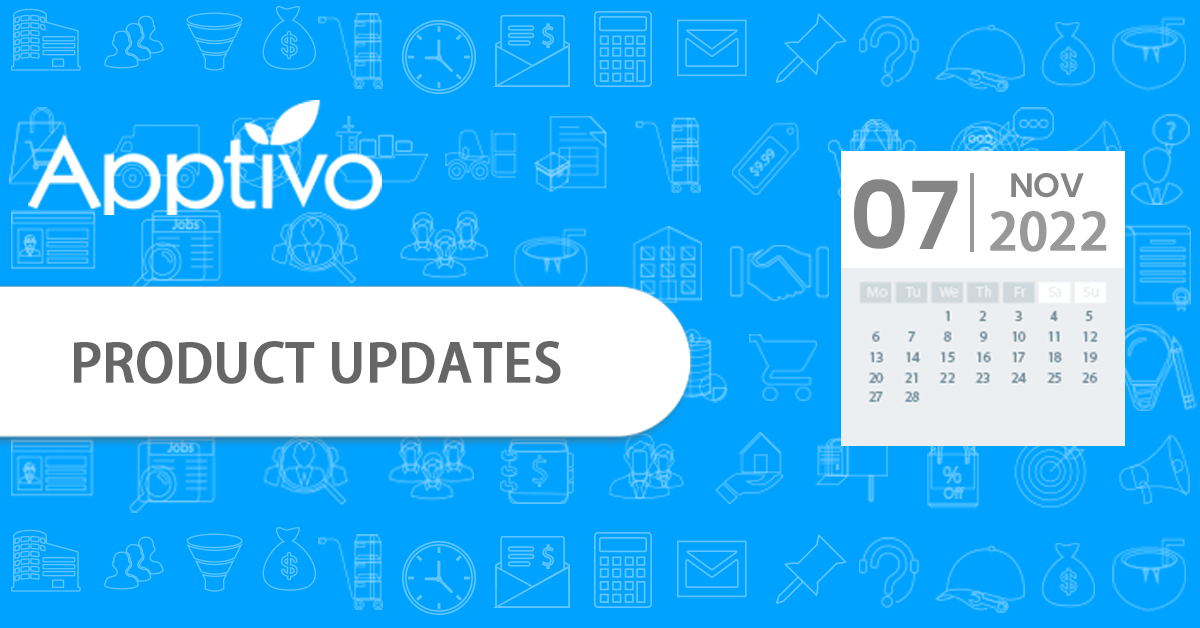 Apptivo Product Updates as of November 07, 2022
Early startups were raised on technology, and to stay up with the rapidly expanding business landscape, they must convert their workforce into digital technology while managing expenses. By providing a wide range of integrations and first-rate customer service, Apptivo is here to take care of businesses of all sizes
Read more

→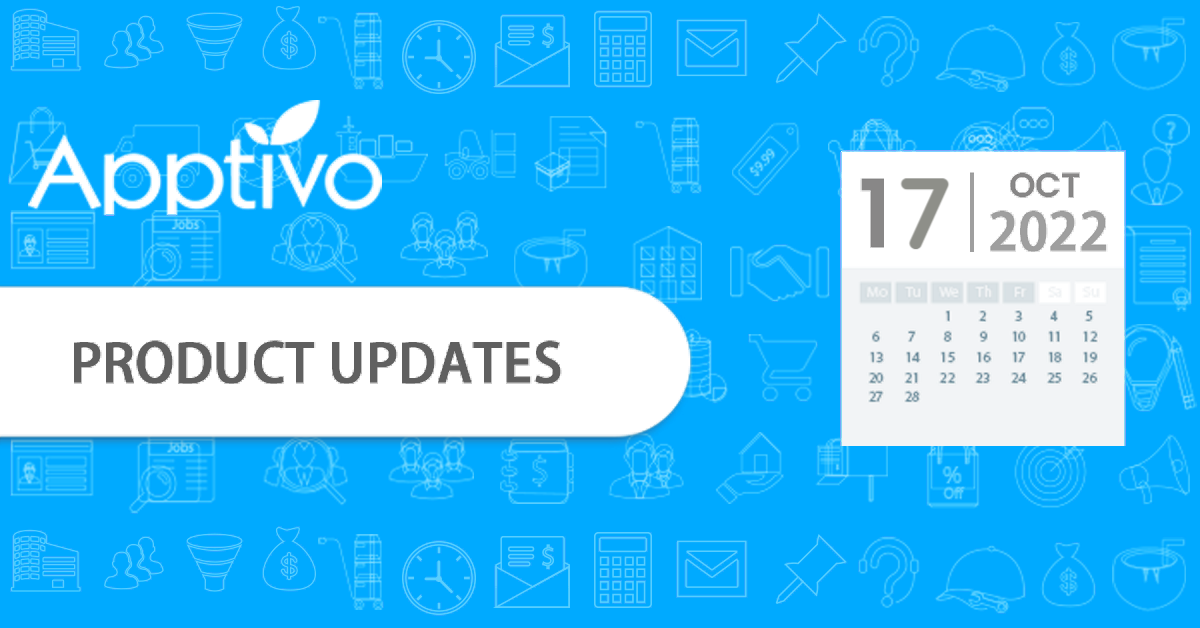 Apptivo Product Updates as of October 17, 2022
We're beyond thrilled to announce our new features this week! This further validates Apptivo as the go-to solution for your booming business. We're always enthusiastic when it comes to providing our customers with the finest features and boundless services
Read more

→