Nexmo, the Vonage API Platform is a business unit of Vonage that develops and markets communication APIs to enable developers and businesses to rapidly innovate the way they communicate with their customers.
The Problem
Apptivo had difficulty in finding an affordable solution to deliver a rich customer contact center experience, despite the size of the company.
Solution
The solution was to connect IP and PSTN for voice communications. And, Nexmo's Contact Center Toolkit came to our rescue.
Summary
Omnichannel communication experience offering a complete set of channels with messaging and voice. Global connectivity leveraging extensive carrier network and webRTC.
Purpose of Apptivo's existence
In today's market, CRM is accessed by large enterprises with sizeable budgets. But SMB companies in expansion phase also got needs and expectations with affordable budget. Apptivo provides not only CRM solutions, but also that supports everything from operations, invoicing, supply chain, at an exceptionally affordable price. It's this category of companies with "all-in-one" solution geared toward SMBs that Bastin Gerald had in mind when he founded Apptivo, in 2010.
"Our mission was to bring software tools to SMBs that were previously only available for larger enterprises" said Gerald.
Today, Apptivo provides an integrated platform that offers affordable, easy-to-use, intuitive, and easy-to-implement software to run businesses, entire businesses.
Over 250,000 businesses currently use Apptivo from 193 countries around the world. Its platform supports a range of primarily SMB companies, from independent consultants to billion-dollar enterprises.
The Vonage API Platform – Best in Omnichannel Communications
Nexmo's Contact Center Toolkit (NCCT) provides bundling of multiple Nexmo APIs and SDKs and permits businesses to implement a state-of-the-art customer experience through the omnichannel. Comprised of the Nexmo Voice API and the Client SDK, NCCT delivers IP Voice and IP Messaging channels for businesses and contact centers to communicate with their customers on the customers' preferred channel, and Nexmo's Messages API which allows user communication via social networks such as WhatsApp.
With these Nexmo tools, contact center and CRM software providers such as Apptivo can select and add in new channels to provide an omnichannel experience to their end users. They can customize their systems and tailor them to customers' specific needs, quickly deploying the channels and features needed to create a unique experience. Additionally, users benefit from such features as the ability to generate smoother contact center functions with simple IVRs, WebSocket connectivity for sentiment analysis, transcription or virtual agent integration, and the ability to record and retain conversations and better understand their customers' needs.
"Offering a voice option via our platform was a definite goal of ours" said Gerald.
Especially if you are an SMB, integrating voice into your contact center solution is critical. For obvious reasons, smaller companies need to give the impression that they are a larger, more established enterprise. Perception is key. And so we wanted to provide them with the ability to have IVR, for example, for people calling into their company. With Nexmo, we were able to build an entire contact center system that offers our customers a variety of different functions such as IP to PSTN connectivity with rich programmability and dynamic call controls, Text-to-Speech, artificial intelligence, recording features as well as the ability to add social and messaging channels."
Of particular interest to many businesses is that the Nexmo Contact Center Toolkit enables contact centers to offer access to all of the features and capabilities described above to agents and users, on one single screen. For businesses that want to enrich their product offering without spending resources on building communication channels from scratch, Nexmo's Contact Center Toolkit provides all of the tools to create a customized communication solution that their customers can easily integrate into their contact center solution.
Bastin stated that he has got remarkably a great experience working with the teams at Nexmo and Vonage. "Everyone we've worked with at Nexmo and Vonage has been very responsive to our questions and needs. We get great information and explanations, accurate estimates of how and when things can be completed. And they will also make sure to inform us about what 'landmines' to avoid stepping on."
With Nexmo, we were able to build an entire contact center system that offers our customers a variety of different functions such as IP to PSTN connectivity with rich programmability and dynamic call controls, Text-to-Speech, artificial intelligence, recording features as well as the ability to add social and messaging channels
Apptivo's Customer Experience Enhanced with Nexmo's Contact Center Toolkit through the Omnichannel
was last modified:
July 11th, 2022
by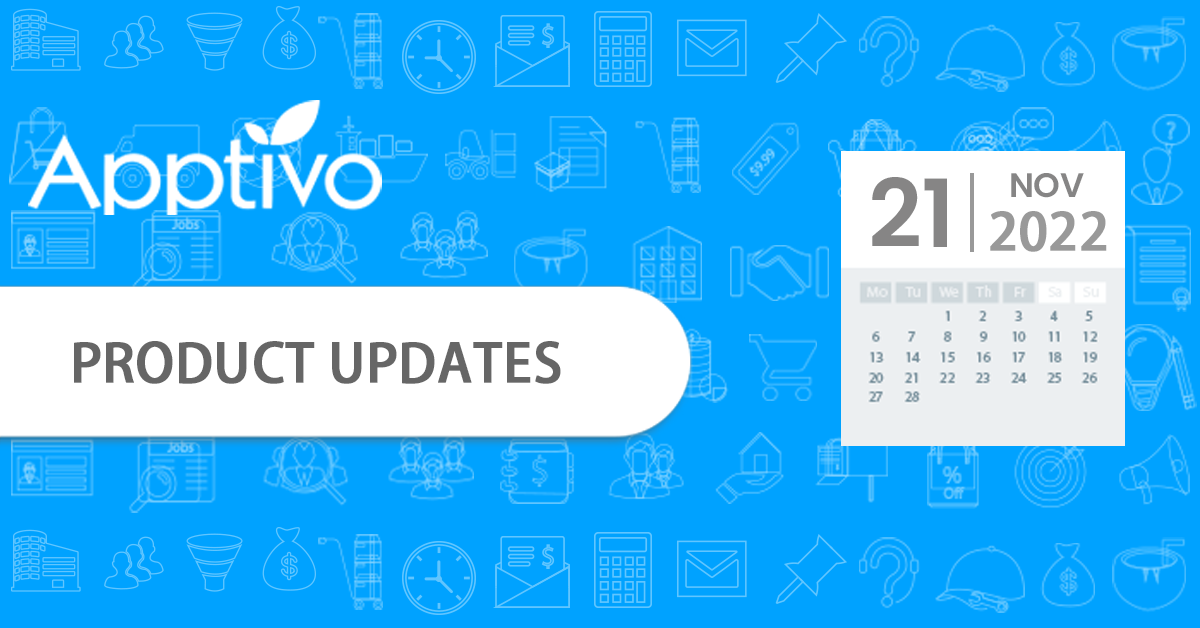 Apptivo Product Updates as of November 21, 2022
Any CRM should aim to advance your business and make work easier. That is why Apptivo develops innovative approaches to make your life easier by introducing fantastic features twice a month
Read more

→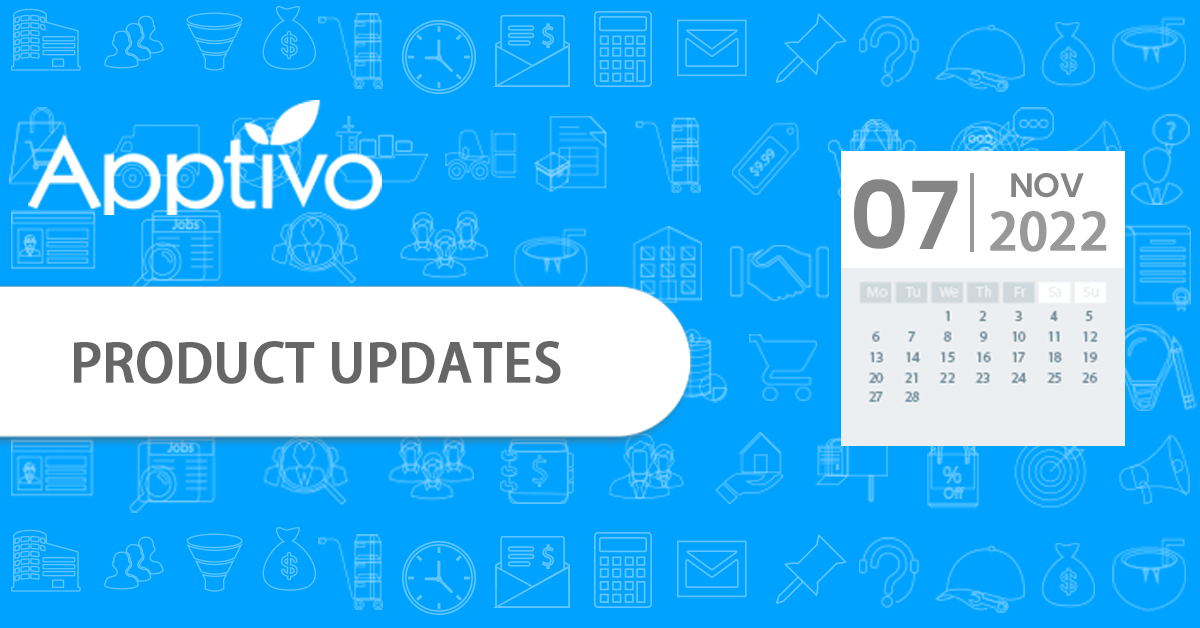 Apptivo Product Updates as of November 07, 2022
Early startups were raised on technology, and to stay up with the rapidly expanding business landscape, they must convert their workforce into digital technology while managing expenses. By providing a wide range of integrations and first-rate customer service, Apptivo is here to take care of businesses of all sizes
Read more

→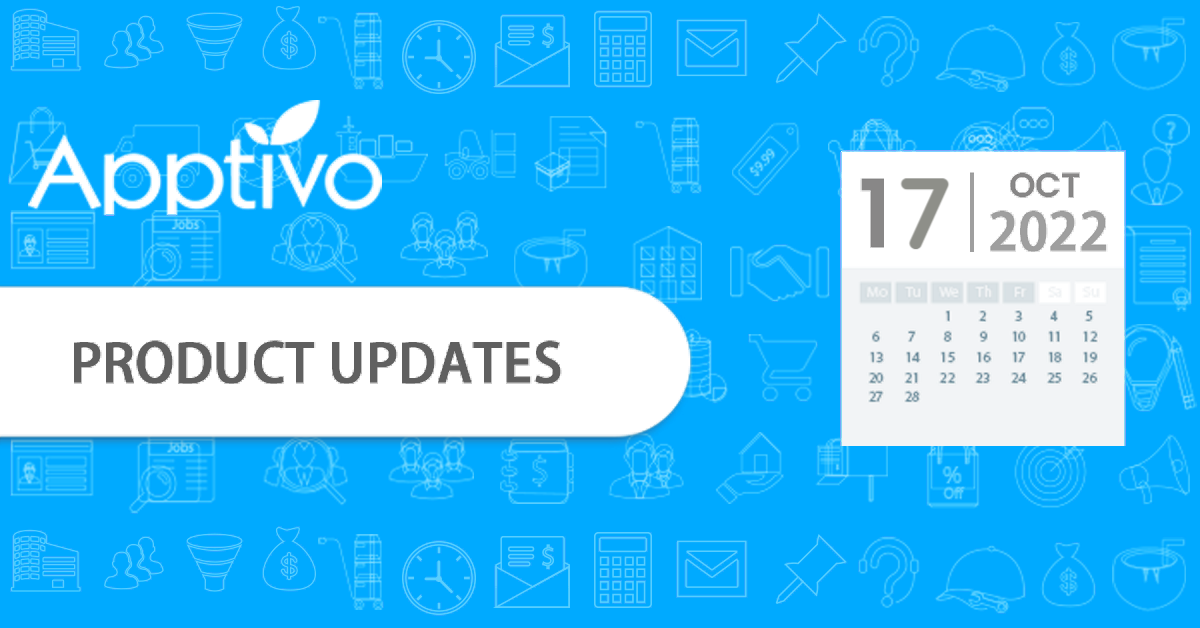 Apptivo Product Updates as of October 17, 2022
We're beyond thrilled to announce our new features this week! This further validates Apptivo as the go-to solution for your booming business. We're always enthusiastic when it comes to providing our customers with the finest features and boundless services
Read more

→