All small businesses strive for one thing – growth. And while greater exposure, increased sales as well as a bigger employee and customer base are desired, it is worth being noted that all these come with certain responsibilities including the need for better organization skill, as well as improved customer engagements which provide a much more streamlined process for your business.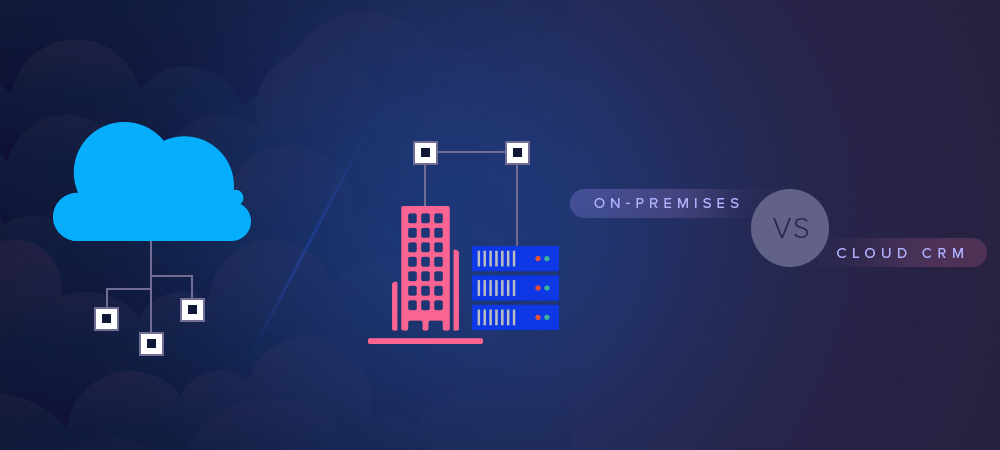 This is why most businesses have turned to CRM software for this rather very important process of managing customer relationships in business, as it provides an avenue for organizing data in a way that works for your benefit.
Several questions have been raised and a lot of people remain unsure about what solution is best – Cloud-based or on-premise solutions. Thus, we have put this article together to help you decide when it comes to choosing the best cloud CRM for small business as well as how to strike a balance between the both.
Cloud vs On-premise – The Basics
Cloud-based and on-premise CRM offer two different hosting models with different capabilities. The distinction between the both lies basically on where the information is stored. While on-premise software makes use of on-site servers for storing and retrieving information, the cloud system allows your data and CRM software to be stored on remote systems and require an internet connection to assess.
Storing your CRM software and information over the internet means there will be no need to acquire hardware or neither will you need to worry about software upgrades. Instead, you opt for a subscription service that will include updates, fixing support in addition to the CRM and user license.
The Cloud-based CRM option is best for small startups without a budget for computers or IT infrastructure. The subscription service is often best suiting for small businesses.
Cost Comparison
Cloud-based CRM allows the much-needed flexibility that is required to accommodate any significant growth in a business. When there is the need to increase capacity, all you will need to do is switch to a subscription that suits your needs better. Hence, there will be no need for additional infrastructure.
This service also encourages real-time collaboration between teams regardless of their location.
Why Cloud-based Solution is Best for Small Businesses
Some of the many benefits associated with cloud CRM solutions for small business when compared to on-premise CRM include the following:
A significant reduction in up-front infrastructure cost
Significantly shorter set-up time
Eliminates the cost associated with running a dedicated server
SaaS provider is responsible for update and maintenance
Easily switch plans as your business grows and your needs change
Information is assessable to all tea members regardless of location
Security Challenges
Regardless of its many advantages, security concerns continue to be the major source of worry when it comes to cloud-based CRM software.
Some of the major problems include:
You do not have a complete visibility and control over your data
The decision to upgrade and the time for it are out of your control
There may be downtime. Even though this is rare, it still leaves you without control over it. Also, in the instance of a system failure, the amount of data which can be recovered is not known.
Some countries have laws which do not allow certain sensitive sectors to take information out of the country. In such a situation, the on-premise CRM would suit perfectly.
Why choose Apptivo:
We here at Apptivo provide a wide variety of integrations along with our CRM for one low price. We are focused on making small businesses grow and we provide 24/7 support to fulfill all our customer needs. We are cloud-based and provide many customizations to cater to your company's needs. We are looking forward to hearing from you.