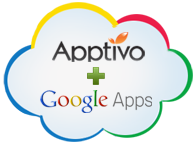 Apptivo is a cloud based business management application that has been designed to serve the end-to-end needs of small and medium sized businesses. The platform is a fully integrated architecture that enables businesses to run their processes without having to worry about their data and other crucial information. Apptivo has a collection of 40+ cloud based business Apps that range from CRM to human resources and project management to marketing and invoicing. All these applications are integrated with each other; therefore, data sharing becomes easier and users don't have to worry about syncing or duplicating data manually.
Apptivo is fully integrated with G Suite. G Suite are cloud based applications provided by Google apps for business. These tools are integrated with Apptivo's applications to give leverage to your business. If you are using Apptivo apps and want to integrate it with Google, you'll have to install from the G Suite Marketplace.
Apptivo and G Suite features
You can share your business contacts with all your domain users.
Sync all contacts with all mobile devices (smart phones and tablets) on the go.
Sync Google events with Apptivo and Apptivo appointments with Google.
Scheduled follow ups appear in your Google calendar.
Document sharing has been made easier with Apptivo-G Suite integration.
Sync an unlimited number of contacts using Google Contact sync.
Google Task sync helps you to sync task between Apptivo and Google.
Other Integration of Apptivo includes,
Mail -> Other than Google Mail or (GMail), we have a new integration of Outlook mail to Apptivo which helps in syncing of Mail from Outlook to Apptivo and vice versa.
Phone Call -> Apptivo now integrates with RingCentral and Asterisk to make calls. RingCentral on integration with Apptivo helps in making calls via CRM to their customers. Asterisk is as like a intercom which helps in connecting Employees within the Organisation using Apptivo.
Communication -> By utilizing the Slack, your team or group gets informed progressively of the constant feed of updates, including the object activities instantly.
Two way sync -> We have integrations with Office 365, Outlook and Gsuite for Email, Task and Event sync from and to Apptivo.
Accounting -> We have Quickbooks and Xero integration with Apptivo where you can sync your accounting and journal records.
There's a live support chat available for all users Monday thru Friday, 24 hours. All in all it is worth investigating Apptivo's many integrated business apps.