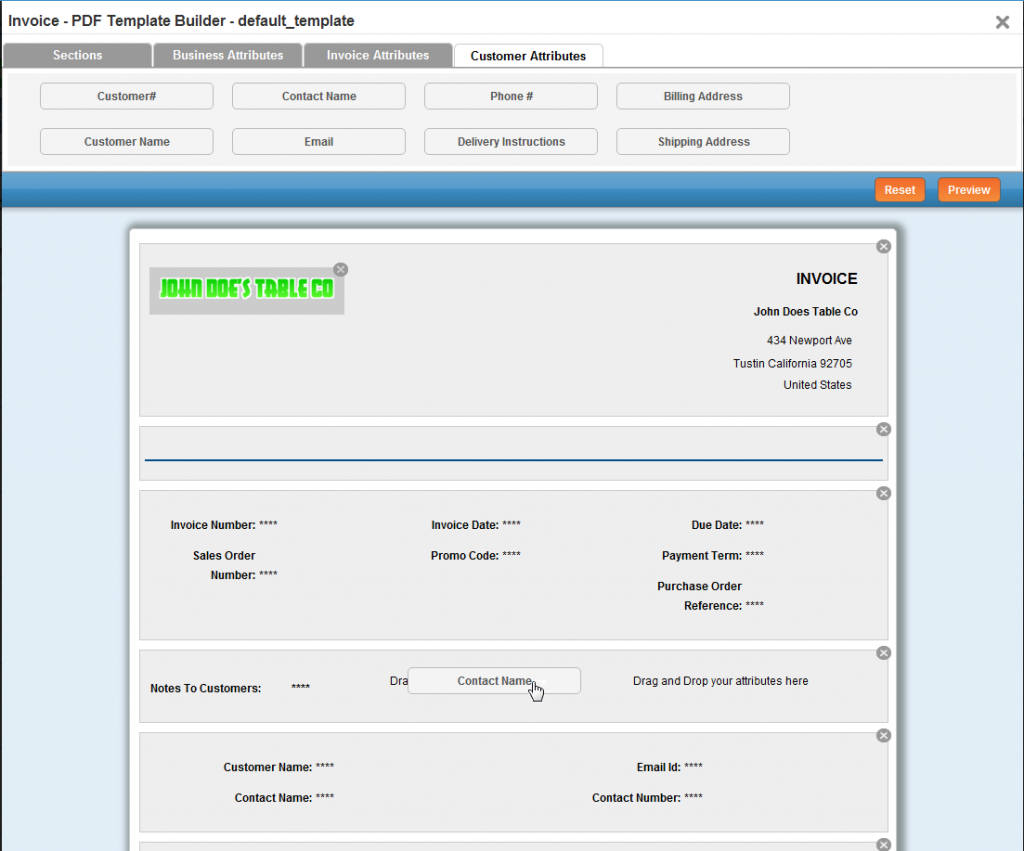 This week was an invoices extravaganza! We made countless updates to our invoices app to accommodate many new requests from our customers like you! The app has a new refreshed look & feel, many new pieces of functionality, and a new & improve custom PDF template builder. You'll also notice a fresh look for the notes features in all of our apps, allowing for quicker & easier entry of new notes.
The main feature this week was our PDF template builder. With the new tool, you now have nearly complete control over your invoice's look & feel, as well as the information that appears on the invoice. We've provided the ability to add in attributes to print data directly from the invoice, such as the customer name, contact name, invoice number, payment terms, etc. You will still be provided with this information on the invoice by default, but you can now delete the standard fields Apptivo provides, and build your own invoice from the ground up!
In addition to the template builder, you can do many other minor things, such as selecting an individual contact for each invoice. If you are issuing invoices to a US government entity, it's required to supply a contact person for each invoice. You will now be able to select data from your customers & contacts app directly from the invoice, and the contact name will appear in the final invoice.
The last special item in this week's release is our new app homepage for invoices. When you go to your invoices dashboard, you will now see a little "Home" tab which loads by default. This tab gives you instant vision into the activites occuring within the app. See a news feed of all changes going on to invoices, and get a list of your recently access invoices for quick navigation. You can expect this new app homepage to be included with new apps every release, so stay tuned!
New Business App Features
This Saturday (6/18) we added the following new features to Apptivo:
New invoices PDF template creator
New invoices look & feel
Invoices app homepage
Add items & services to an invoice containing timesheets
New & improved notes feature in all apps
Employees upload feature
Improved security role selection in Employees App
Redesigned documents app
Apptivo Bug Fixes & Small Improvements
This Friday (6/18) we fixed the following issues in Apptivo:
Many minor bug fixes in Invoices App
A user can no longer delete their own security roles
Various fixes for Employees App
Changed the warning message to only appear once if you are using an unsupported browser
Upcoming Business Solutions
Next release (6/30) we will make the following updates to Apptivo:
More invoices cleanup & fixes
Advanced & saved searching for invoices
New Estimates App
Service Work Orders 2.0
Opportunities App Redesign
Apptivo Answers site