The long wait for Invoices V6 is finally over. We're proud to announce that Invoices is going into Beta starting today. To request access to the beta testing, please send an email to beta@apptivo.com. Apptivo has given you complete control over all your invoices! Check out all the cool features below:
Customization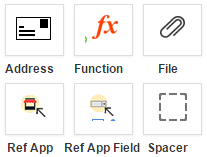 Reference Attributes – You've asked and we've listened. One of the major new additions to the new attributes was to reference an app. You'll be able to select an app and pull information from that specific app.
Add a Table – Don't want to use the default columns in the tables? No worries! You'll be able to easily remove or add columns. Not only that, you'll also have the ability to create your own table from scratch.

Custom Formulas – This has been a very common request that users have asked for, and we're happy to say it's finally here. Create your own custom formulas to add to the invoice.
Message Templates – Easily set your default message template used when emailing an invoice out to customers.
Reports
Exportable – You'll be able to export all reports via CSV now.
Aging Report – Many people asked for an aging report, so here it is! Make sure all payments are paid on time.
General
Responsive Design – Along with all the other V6 releases, the app will be completely responsive.
Hide Item Menus – Rid yourself of the clutter and remove menu items you do not need.
Select Homepage – You have the option of selecting what you want to see when you go to the Invoices App first thing. Some people may want to view unpaid invoices, others may want to view all invoices, it's all up to you.
Invoice betas are going out later today, so make sure to get on the list!
Invoices V6 Beta
was last modified:
January 25th, 2019
by