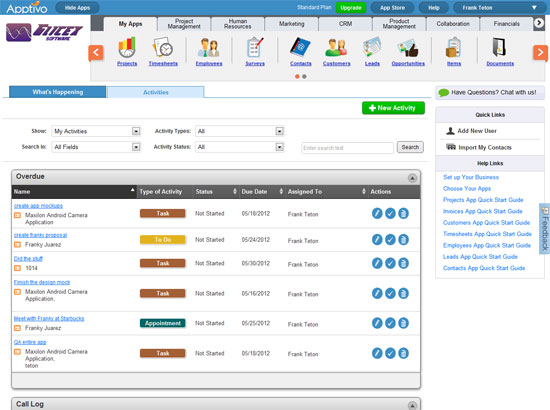 This week we focused on two primary items: helping new users get started, and to improve the experience of Apptivo for the most commonly viewed areas. No major functionality changes we're done this week, instead, you will notice many minor improvements across the platform.
First we have the demo data installer, which was designed to help new users get set up quickly and begin testing Apptivo. Many users had requested we provide some sample information to get started, and here is our answer! Every Apptivo firm now has an "Installable Demos" page in their business settings. This feature will create sample customers, employee, and projects in your business. All of the data can be changed and modified just like data that you create for your business; but without the worry that you are changing sensitive information.
Read more about the installable demos.
In addition to the new installable demos, we've launched the new Employees 2.0 App, and we've also refreshed the post sign on experience. After logging in, you will notice the news feed & activities view have an improved look that is much more visually appealing. You should also notice some minor performance improvements.
New Business App Features
This Friday (6/8) we added the following new features to Apptivo:
New installable demos
New homepage news feed & activities
Mark call logs as incoming/outgoing
Employees 2.0
Business Application Fixes
This Friday (6/8) we fixed the following issues in Apptivo:
Various CRM security & bug fixes
Fixed issue with creating employees
Added better descriptions of folders in documents app
Added further security when association activities to other objects
Improved documents search
Upcoming Business Solutions
Next Saturday (6/16) we will make the following updates to Apptivo:
Redesigned HTML5 versionof Invoices App
New invoice PDF templates builder
Adding contacts & customers to invoices
Improved "scope" tab on projects
Improved help documentation inside the apps