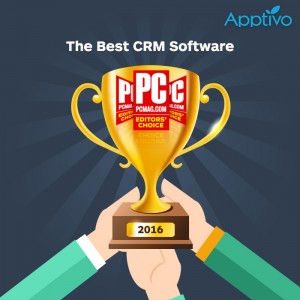 Apptivo's CRM has been again ranked by PCMag.com as one of the best CRM software in 2016. We are happy to announce that it's for the second consecutive time that we are being acknowledged by PCMag.com. Apptivo was recognized as the top contender in CRM software by PCMag.com in July 2015 and in August the same year it was rated as the best CRM software for the small and medium-sized enterprises.
PCMag.com is a top rated technology information magazine which analyses the latest software applications and lets the Small and Medium sized business owners know the best off-the-shelf software that they can integrate with their existing systems.
According to PCMag, Apptivo stands apart as one of the most flexible and affordable CRM tools on the market.
Apptivo's CRM is comprehensive software that offers a free starter plan that has only basic features. There are two paid plans- Premium and Ultimate. The premium plan costs $10 per user per month. It offers features such as IMAP email, company branding, third-party integration, CRM, license and insurance tracking, message templates and more. If you opt for the Ultimate plan it costs $25 per user per month and offers all features of the premium plan along with more storage, additional API request per day, access to special applications such as Territory Management, Sales Planning and Properties.
Apptivo provides over 40+ business apps in nine distinct categories that will allow small business owners to centralize each aspect of their enterprise within the Apptivo interface. With Apptivo, you will not need any other software.
Apptivo's range of software is affordable as well as versatile in its usage. The learning curve is small and most small business can start operating the software and realize business growth as well as profit right away.