Image Settings
These fields allow you to control the size of images that will be shown for the products on your site.  Each field controls a different type of image, as you'll want to display small images on some pages, and large images on others.
The hard crop checkbox will always ensure a clear image, but may cut part of the image out of the box.  Leaving this box unchecked will always show the complete image, but the image may appear blurry or stretched.
You can avoid this issue by doing two things:
All three settings should have the same aspect ratio
You should upload all product photos with the proper aspect ratio chosen
Lightbox
Enable this setting if you would like your users to be able to enlarge a product image into a lightbox popup.  This setting only applies to the product description page.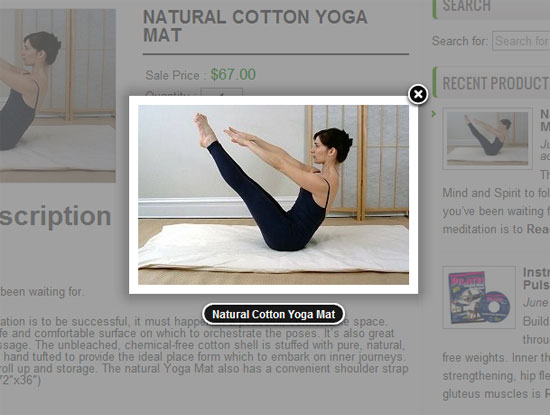 Redirects to Cart Page
This setting determines what happens after the user adds a product to their shopping cart from the products page.  If left unchecked, a user can browse through products, and add products to their cart without changing pages.
If this setting is enabled, a user will be sent to the shopping cart page as soon as they click the "Add to cart" button.
If this setting is disabled, the user will see a small green check mark next to the product to indicate it has been added to cart.
Products Sort by
This setting allows you to configure whether your users can sort your products or not.  Sites with less than 10 products won't really need this feature, and hiding it can help simplify the page.
If you choose to enable this feature, a dropdown menu will appear on all product listings pages, which allows the user to sort the results by:
Products Base Page
This setting determines which WordPress page will be used to display all of your products. By default, Apptivo will show all products unfiltered in this view. Typically every website should have one main store/products page.
Products Sorting Type
This setting determines how products will be sorted for users by default when visiting your website. As covered above, you can enable the option for the user to manually change the sorting themselves, but this setting controls the sorting available before the user makes any changes.
Products Per Page
This setting is fairly self explanitory. This is the maximum number of products that will appear on any page. If a page returns more products than this number, paging links will be automatically added.
Products Pagination Type
If a page returns more products than the products per page limit, paging links are added. This setting controls where you want paging links to appear. You have the option to place them at the top of the page above the products, below the last of the products, or placing the links in both places.
Base Page Title
This setting controls the page <title> tag for the products page selected above for the "Products Base Page" setting. Use this field to set your own custom title, otherwise the page will use the title as determined by your WordPress configuration.
Back to plugin settings.