The Opportunity dashboard speaks about the people's activity and able to filter the activity by their name. At once you click the employee name from "People" drop down you can view all the related activities of selected name. And on the right recent opportunities created by employees are displayed with the type, and date of creation.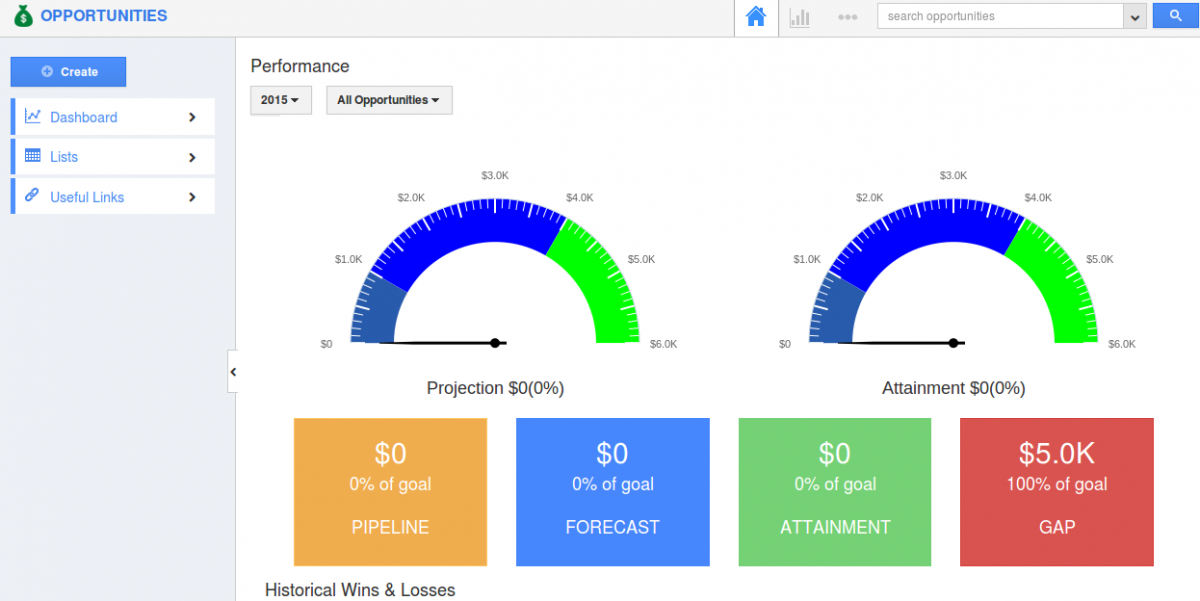 Opportunities News Feed
The news feed displays all the opportunities related activity, for the convenience you can filter the people's activity by choosing their name. At the top of the Newsfeed the field called Filter Feed, by which the activity according to the selected name. Choose the employee name by clicking "People" drop down, select the employee name you would like to view for. You can type your own comments in what are you working on? Editor folio and post them. You can seek the News Feed by search Newsfeed above the post folio. This is the master header will follow through every page so you can easily redirect to home,reports and more.
Home
It redirects to the homepage of opportunities. You can quickly view recently created opportunities. It is used to offer a Newsfeed related to the opportunities App. It also provide the link to the individual along with the integrated apps. This is due in part to the communal nature, focusing all the integrated apps, as well as the ease of creation.

Reports
Opportunities App reports support you to keep track of important information in the name of the reports. The report uses a feature of exporting into excel format, sharing the reports with employees.

More
Settings
Opportunities settings allows you to create opportunities with the perspectives you need to record as per your requirement. Opportunities are covered with settings, which attained with such qualities.

Notification
The Opportunities App is powered by the global notification system in apps. This system allows you to receive updates to your news feed as well as email updates for many different events that can occur within the app. Each employee can configure their own notifications set up. Being a collection of methods that are often incorporated in many diverse settings in various ways, there are documents and notes that are used to utilize the need of News Feeds and Email Feeds for communication.
Trash
Trash feature is an enhanced feature which supports you to track all the deleted opportunities. All the opportunities that were previously deleted are now available in the Trash.
Recent opportunities
Opportunities App provides an extraordinary section of recent opportunities which displays all the opportunities created and modified recently, with the date of creation.
Easy navigation to recent opportunities.
Quick view of opportunity with its creation date.
Opportunities Dashboard
was last modified:
November 4th, 2020
by