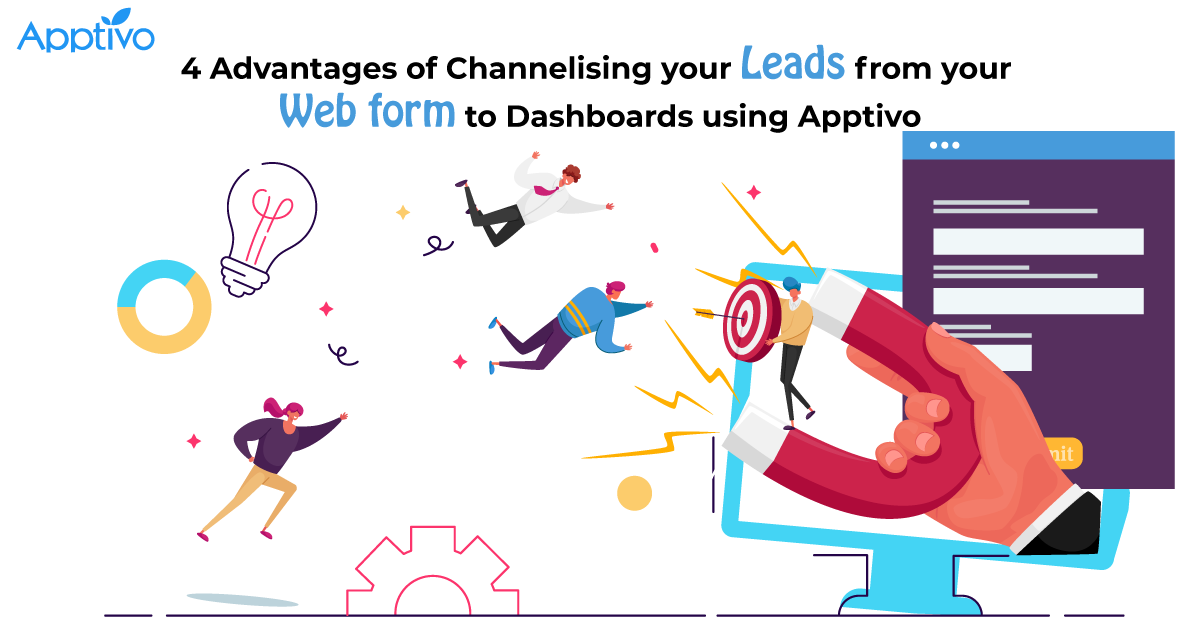 About a decade ago, companies that had websites served just as a source of static information that they had to offer to the people visiting them. It was just a single channeled communication that made it almost impossible for the companies to track their visitors and know more about them. Back then, companies had to look for customers outside their website and in more physical ways. But with the arrival of web forms, it has become easier and more effective for businesses to initiate communication with the people that visit their websites but also they now have more chances to turn their mere visitors into successful customers. And in a string, we can say that Web forms are a great way for companies to generate Sales Leads. But generating website traffic and converting it to business leads is a great challenge for companies nowadays, and webforms have proved to be of great importance as it puts the process of generating leads to priority and acts as the major gateway for customers to enter your business space. So with Apptivo, let's get into the main advantages of using Webforms and how they help you in converting your leads into successful customers.
Saving integration costs & reducing manual work
When it comes to web forms, the biggest advantage they have is that they offer seamless integration with your CRM system. It enables you to capture crucial lead information without having to use any other external application or software and brings that information right to your CRM dashboard. Web forms eliminate different costs such as removing the need for any complex software integration as well as the burden to manage them. Apart from this, when working with Apptivo's integrated web forms, you need not worry about different things such as security risks and loss of valuable data. You also don't need to worry about paying a vendor for services like capturing leads.
Concluding this, Apptivo Webforms feature seamless integration by collecting valuable lead information and bringing it straight to your CRM solution, so that you can manage that data more effectively without spending an extra dime.
Initiate communication with your visitors
When people visit your website, chances are they could be your potential customers. And for you to capture the sales opportunity that they bring with them, you need to communicate with them before they find another option. So, integrated webforms are a great way to deal with different situations involving the possibility of adding new leads and expand your inbound marketing without any additional efforts and no redundant costs.
Webforms with additional benefits such as content access, subscriptions, event registrations, and surveys, etc allow you to establish a reliable connection with your leads as well as build generous relationships with them.
Automated lead nurturing
Webforms are built with a marketing perspective that allows you to have a broader marketing domain as well as capture better leads. For this, webforms make you able to collect important lead information such as name, email address, and other contact information. Along with this, it also lets you store that information directly into your CRM Software without you getting bothered to do that. You can also set up specific trigger actions related to capturing leads so that if a lead enters a certain stage, predefined actions can be taken to support their customer journey. Apptivo Webforms offers automated information capturing along with the options to provide targeted communication and deliver a personalized experience.
Ensures data quality
Capturing more and more leads is often a marketing criterion for many businesses but during that process, several companies compromise on data quality which results in a decrease in their conversion rates in the future. So, they need to ensure that the leads they capture are all quality leads and the data entering their CRM is without any doubt premium data. In this situation, you need to make sure that the information given by your leads and entering into your CRM Solution is all legitimate and not fake/dummy credentials. Apptivo web forms help you in maintaining the data quality by verifying the data entered by the users into the forms. By doing this, Apptivo webforms not only ensure data quality but also help in decreasing the manual processing that needs to be done for checking the data. Hence with Apptivo, get assured of quality data without any second thought.
So, these are the main advantages that Apptivo webforms offer. Apart from this, it also helps you in knowing different things related to your leads such as which leads are qualified for targeted communication. It also lets you obtain privacy consents from the users so that they don't have any privacy issues while giving out their information. Hence, with Apptivo webforms you not only capture lead information but also build strong relationships with your prospects that help your business to grow.
Conclusion
CRM and webforms are a powerful combination that not only complements each other well but also improves the overall functionality of the collaboration. With integrated CRM & web forms, you can reach out to your targeted audience pretty easily and get valuable information. Also, you get access to automated features that remove any chances of losing a sales lead. Hence, web forms help you in improving your marketing process and reap your efforts in a much better way.
4 Advantages of Channelising your Leads from your Web form to Dashboards using Apptivo
was last modified:
March 18th, 2021
by