Time to upgrade your contact management!
The way King Solomon put it was, "The one who walks with the wise will become wise, but a companion of fools will suffer harm" (Proverbs 13:20 CSB). In other words, 'show me your friends, and I'll show you your future', and to put it in a business context, the contacts you have will define the success you will achieve.
Paper notes and business cards are a thing of the past. Keeping track of every customer's name, phone numbers and unique preferences can be challenging in the fast-paced corporate world of today. When limited to a personal network, it is easy to keep these contacts. However, when it comes to a growing business, that network of contacts becomes unmanageable and companies choose a contact management software or a CRM software to organize and engage with all of their contacts effectively.
Defining: Contact management
Businesses can manage and organize contacts across the organization using Contact Management- either as an independent tool or as part of a CRM both of which are capable of managing personal and professional contacts.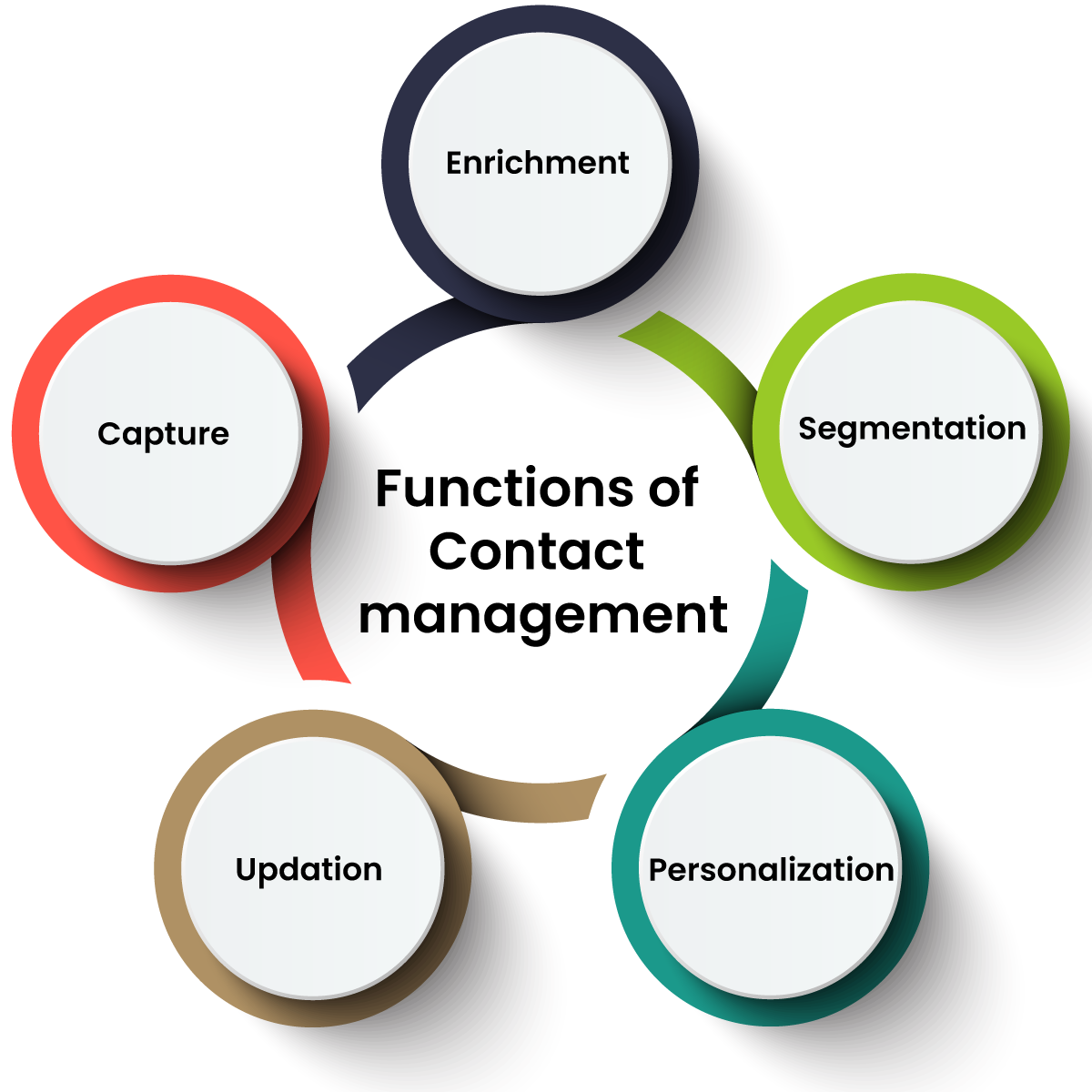 Typically there are five distinct functions for Contact Management:
1.To capture any information about a person or organization with a connection to the business.
2. To enrich that contact information with relevant data for sales and marketing.
3. To segment and group contacts into natural subsets to enable sales and marketing to approach them.
4. To provide personalization data to sales and marketing when engaging with the contact; and
5. To update the contact details with relevant support, marketing, sales and opportunity identified when interacting with that contact.
Why is contact management important?
It is easy to share contacts by using contact management software as it eliminates the hassle of choosing and sharing each contact manually. In other words, it is the software that organizes data like names, phone numbers, and email addresses into a searchable format for quick access across the organization.
Helps in Personalizing customer experience
Every customer expects to be treated uniquely by the businesses they reach out to. Contact management tool helps support teams to personalize customer interactions.
Making notes about customer interactions and inquiries is like shooting a fish in a barrel with Contact management guide for sales and support. These notes provide a reference and provide the foundation for their future conversations.
Data stays organized and accessible
Businesses are conscious of the fact that organizing every data for business analysis takes a lot of time and effort in order to build out a strategy for increasing income. Retaining customers in any business requires prompt responses and suitable solutions. And for this, Contact management must be deployed to make the entire process hassle-free.
Enhancing productivity and customer satisfaction
Every time a customer contacts the sales and support team, they need not pen down the entire conversation. They can proactively pull out data from contact management apps and carry forward conversation with customers.
Perks of Contact Management in Business
Businesses will not invest in any tool unless it provides a benefit, and some of the key benefits of contact management software are listed below:
Centralized Contacts
Working from office or home retrieving customer details won't be an issue. The fact that contact management systems are cloud-based allows sales and support teams to access customer data whenever and from any location with Wi-Fi. For client data, cloud-based storage is more secure than local hardware storage.
Storing additional data with Contacts
Paper filing will be challenging when the amount of data is large, both in terms of storage space and time. Going digital today is a smart practice for every organization irrespective of their industry due to the significance of electronic data storage.
In the world of business, every contact might be related to some documents, notes, or even conferences. Contact management makes it possible to access everything in one place without wasting time or resources.
Contact sharing – keeping privacy in mind
Contact management systems make it easy to categorize contacts and share them with particular members of the team. It is possible to include various access levels for users in order to ensure privacy.
Lower expenditures
Businesses prefer to spend as little as possible while reaping the most rewards. Contact management solution assists with document storage, note-taking, setting reminders, and many other tasks. Consequently, it becomes simple for organizations to manage everything with ease.
Integration with Social Media
Through social media, the digital world has shaped people's mentalities. Any business that wants to develop must recognise how important social media is to that growth and how important it is to analyze customer interactions. This tracking works best with contact management applications integrated with social media platforms.
How contact management systems empower sales & support teams?
In addition to contact information, a contact management system also provides many tools that sales and support use for their business operations.
Record notes
Suppose an employee is on the phone with the customer and realizes he has important information about the customer, he does not need to look for paper or excel sheets, but rather enter it into contact management software. Team members can use these notes to learn how to get ready for future interactions.
Set reminders
Setting reminders in contact management systems to get in touch with new contacts or to get in touch with them again after a chat is possible. Additionally, this system is capable of sending notifications that include instructions on when to call or email. Hence, losing any contact due to missed follow-up can be kept low.
Use search and filter options
Systems for managing contacts feature databases that can be searched. Filters shorten the time it takes to find information by streamlining results. Furthermore, it is possible to add searchable tags to particular contacts, such as location or stage in the sales cycle.
Easy Import & Export of Contacts
Importing and exporting of contacts is now hassle free with contact management systems. No matter if it is in CSV or VCF format and linking with tools like Apple contacts, outlook contacts and Google contacts. These contacts can be managed and exported as needed.
Data regarding customer – when handling support
Every bit of information about contacts, such as support and sales history, made available to support will enable support teams to prioritize customers appropriately. Since the majority of support calls concern the customer's most recent purchase or service/support provided.
Choosing the best Contact Management Software
When looking to purchase contact management software for any business, there are things to keep in mind. Some of them are:
Scalability of software
Having scalable contact management software ensures that it will continue to function even as a firm grows and the number of contacts rises.
Cost
Making money is what every business wants to do. So, before spending money on any contact management software, it is essential to see if any free trials are offered to reduce capital investment.
Summary
In a competitive environment, missed opportunities equate lost revenue. Therefore, it is imperative that no chance to seal a sale is lost. An organized contact list is essential for business expansion. Hence, a strong contact management system can help businesses attract new clients along with strengthening the relationships with current ones. Don't forget to add Apptivo's 1-month trial to your list.
Contact management Guide for sales and support
was last modified:
March 21st, 2023
by
Release Notes - September 27,2023
Our commitment to delivering top-notch software is unwavering. We understand that every piece of code can have its quirks, and we're dedicated to continuously enhancing your experience
Read more

→
Top 10 Customer-Centric Field Service metrics: What matters most?
1. What Are Field Service Metrics? 2
Read more

→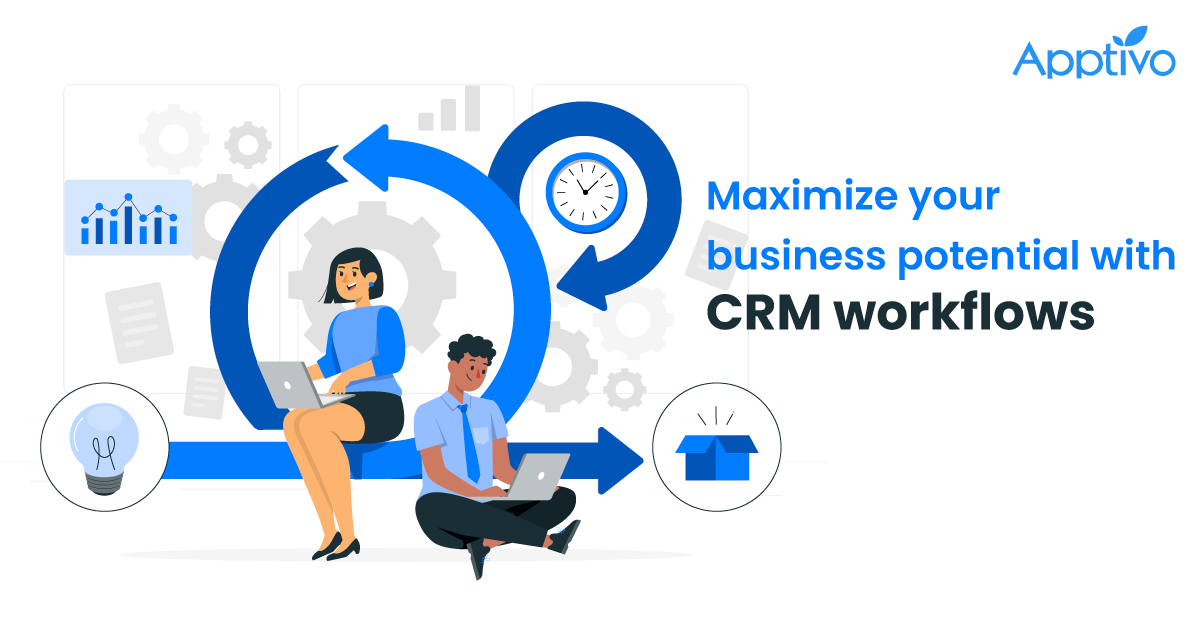 What is a CRM workflow? The Right Way to Boost Productivity and Sales
1. Understanding CRM Workflows 2
Read more

→