Introduction
A real estate CRM is a customer relationship management solution that helps to manage all the interactions in the real estate environment with both the leads and the clients. The CRM tools help the realtors with their day to day activities and reduce manual efforts to a larger extent. There are a lot of CRM tools available in the market and the realtors can choose the apt CRM as per their needs and requirements. In this article, we have listed the top 5 CRM for real estate businesses which are built to meet their demands.
What is CRM in real estate?
Real estate CRM software is a solution that helps manage and build relationships between the buyers, agents, sellers,brokers,developers,financial institutions and other stakeholders who cater to the needs and requirements of the real estate agents and the real estate firms. With the right CRM in place, the realtors can keep the data organized and access it from anywhere anytime.
Five best Real Estate CRM software
1.Apptivo CRM:
Apptivo CRM is an outstanding suite of business applications that helps to deliver superior customer experience for the real estate agents. Apptivo CRM stands out of the pack, as it offers plenty of features which are highly appropriate for the real estate business to succeed. With apptivo mobile CRM app, you can sync client data to give you all the information you need on the go. You can also set events and tasks with apptivo to effectively manage the transactions. From listing appointments requests to a home inspection and closing, you can set up reminders and automated emails in order to deliver superior client service. With apptivo campaigns app, you can let the clients know about the new properties available in the market. You can also send automated replies to queries and concerns of the clients using apptivo automation. Apptivo provides ample benefits to the realtors which helps in effective streamlining of their operations. Apptivo is priced at $8/month per user.
2.Zoho CRM:
Zoho CRM is an all in one CRM application that manages the customer – client interactions and provides you with real time notifications. This CRM software helps you to connect with potential buyers and sellers through service portals. You can also generate leads from multiple sources such as emails, chatbots, social media, sign ups and much more. You can also manage and track the KPIs to track the performance and view the report to make decisions. This CRM helps you find the best channel and the right time to reach the customers in order to close the deals promptly. You can customize the email templates and can also invite clients to collaborate on projects. Zoho CRM plan starts at $20 per user per month.
3.Contactually:
Contactually is a customer relationship management platform for real estate business which helps to build long term relationships between the realtors and their clients. Contactually CRM helps in centralizing contacts and documents the relationship touchpoints. You can follow plans and automate the workflows by setting triggers. This will help in saving time and manual effort.
You can keep track of your new leads, current clients, past clients and set up a personalized plan of action to nurture the relationships. You can also prioritize your daily routine with the centralized dashboard and a to-do email in order to build engagement. With Contactually, you can meet the requirements of the brokers and agents, which helps in achieving higher than average adoption rates and help in contributing to retention and growth rates throughout the brokerage. Contactually pricing plans start at $69/month.
4.Wise Agent:
Wise agent is an all in one real estate CRM that provides contact management, lead automation, transaction management and marketing automation. This CRM helps realtors organize their routine tasks and gives an opportunity to save money and time. You can create commission reports and create tasks lists with time estimates and set priorities. You can also store all the important information in the application and can restrict access to sensitive information. Wise agent is priced $29/month.
5.Ixact CRM:
Ixact CRM is a real estate CRM that provides complete access to the customer information and you can maintain all the information in a centralized database. The CRM tools will help set commission goals and help you stay on track and be determined about achieving those goals. Keeping track of commission and sales process will help you make strategic decisions. You can also get real time insights from the sales dashboards which will help you concentrate your efforts to achieve better results. With Ixact CRM, you can set reminders for important tasks, schedules and appointments. Missing the appointments will be hard on a real estate agent. Ixact CRM is priced $39/month.
Conclusion
CRM software plays a major role in reducing the manual efforts to a greater extent. Also, the realtors can make sound data driven decisions based on the insights gathered from the CRM software. You can build a good relationship with the high value customers. When it comes to choosing the right CRM for your real estate business, you need to look into the tools and features available in the CRM software. You need to decide which features best fit your demands and make the best choice that would help you increase your revenue and growth.
Five best CRMs for Real Estate
was last modified:
November 8th, 2022
by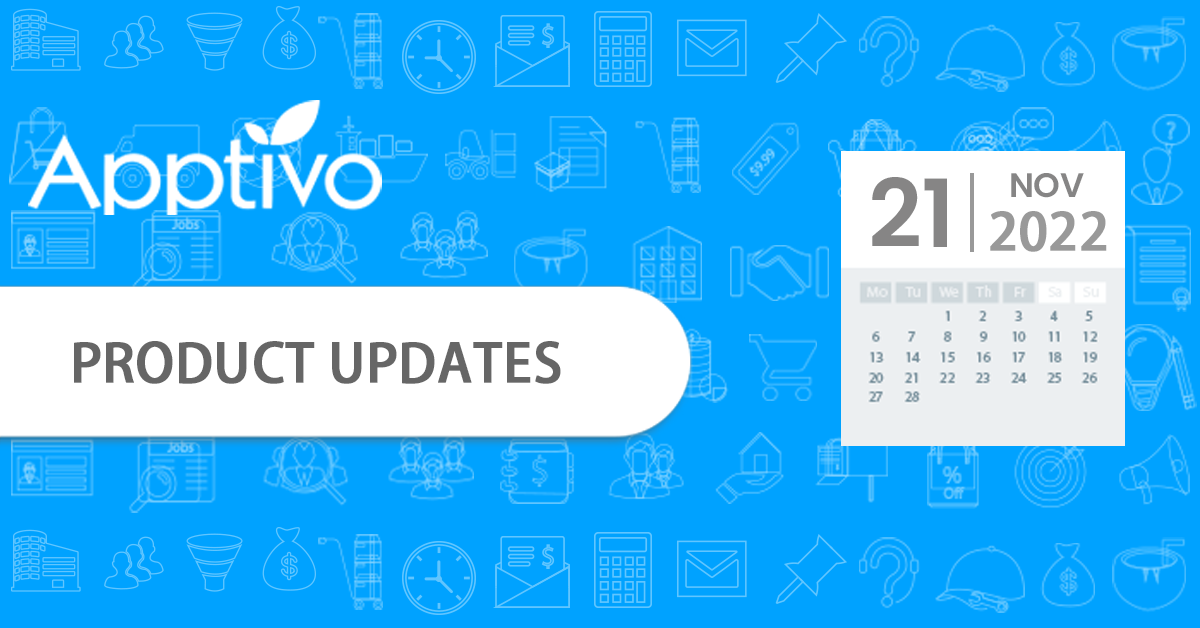 Apptivo Product Updates as of November 21, 2022
Any CRM should aim to advance your business and make work easier. That is why Apptivo develops innovative approaches to make your life easier by introducing fantastic features twice a month
Read more

→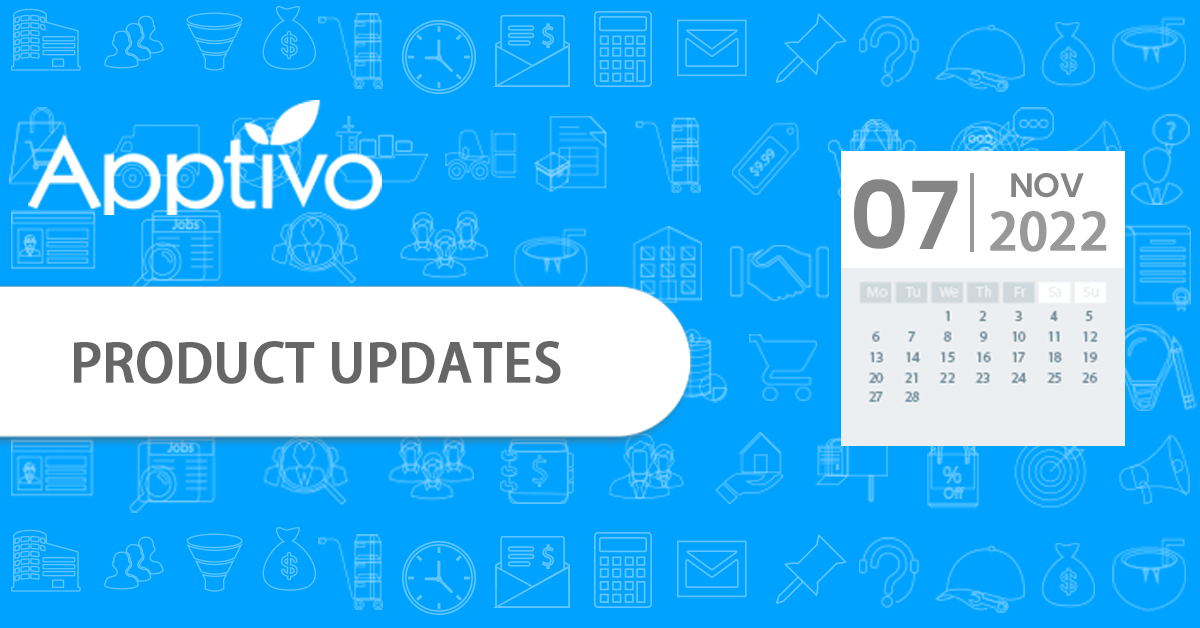 Apptivo Product Updates as of November 07, 2022
Early startups were raised on technology, and to stay up with the rapidly expanding business landscape, they must convert their workforce into digital technology while managing expenses. By providing a wide range of integrations and first-rate customer service, Apptivo is here to take care of businesses of all sizes
Read more

→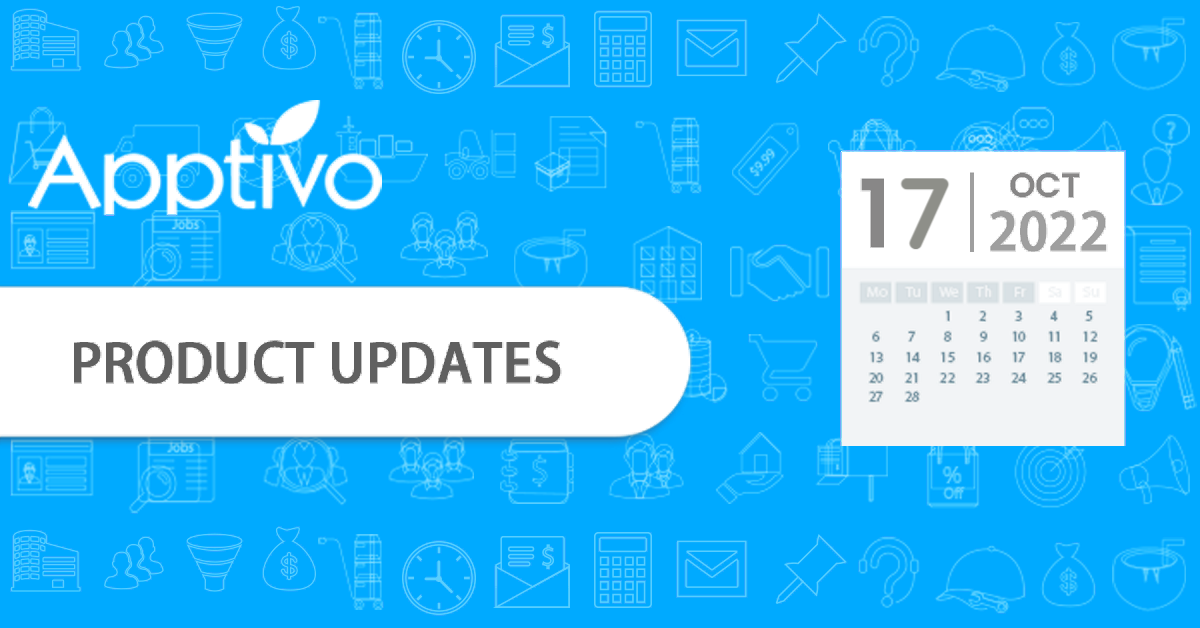 Apptivo Product Updates as of October 17, 2022
We're beyond thrilled to announce our new features this week! This further validates Apptivo as the go-to solution for your booming business. We're always enthusiastic when it comes to providing our customers with the finest features and boundless services
Read more

→