In continuation to the invoices V6 features, we are going to discuss now the very interesting and amazing features, that are most commonly used by all invoice app users. Which are used to personalize the invoice page according to the user needs.
" Settings " Features
Default Invoice Lines:
This option lets you to select on what types of invoices that you wish to create for your customers. For instance, if you are owning a company with the both item and service providers. However, your customers will not opt for both the things at the same time. So you can create the invoice according to the customer need. If you disable the option here then the invoice will be created with the basic things and not with any particular items or services.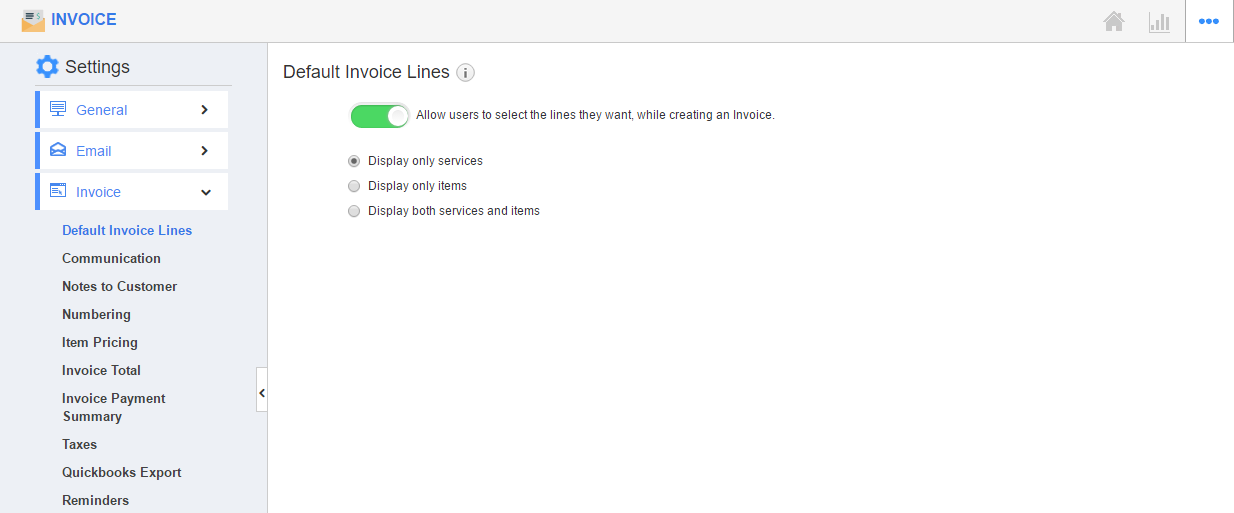 Communication:
Basically, all the companies will have different addresses like billing,shipping and personal. They wants all the customers details should be added into the system. So by enabling or disabling this option you can add or remove the addresses. Also you have an option to create the communication address type by clicking on the option create.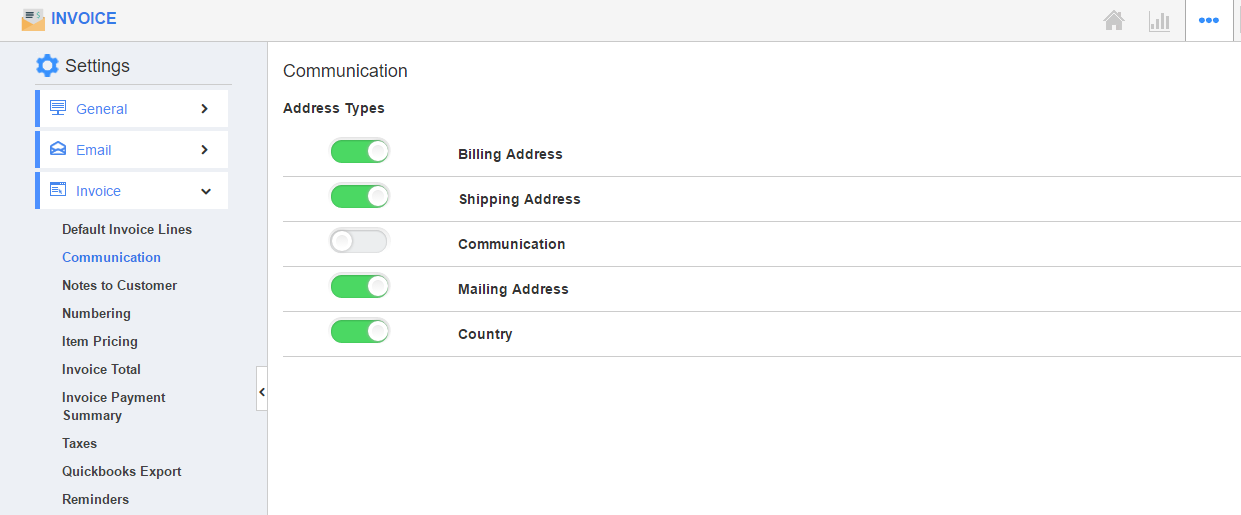 Numbering:
This feature is generally used in all our V6 apps. By enabling this option the invoice numbers will be automatically created and it helps to reduce the manual interruption. If you wish to create your own invoice number you can disable it.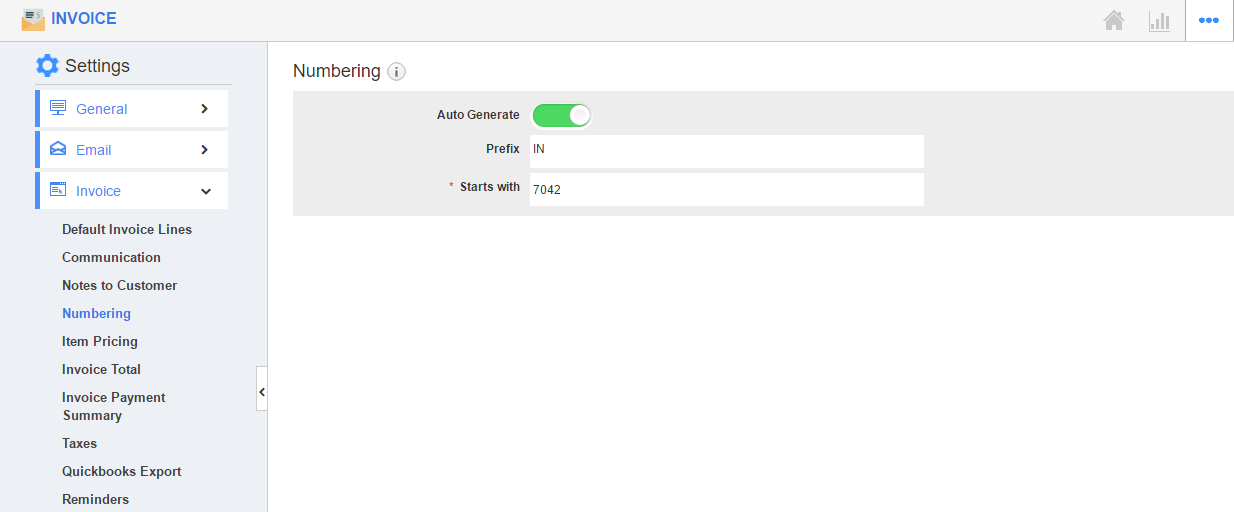 Item Pricing:
The item pricing option is used to edit the price while creating the invoice. Usually the item will be created in the items app and the amount will also created along with that. However if you wish to change that amount while creating the invoice you can do the same by enabling this option.

Invoice Total:
The invoice total lets you to decide whether you have to specify the old balance with the customer in the invoice or not. By enabling this toggle the invoice will be sent to the customer with the old unpaid balances. If you do not want to do so you can disable this option.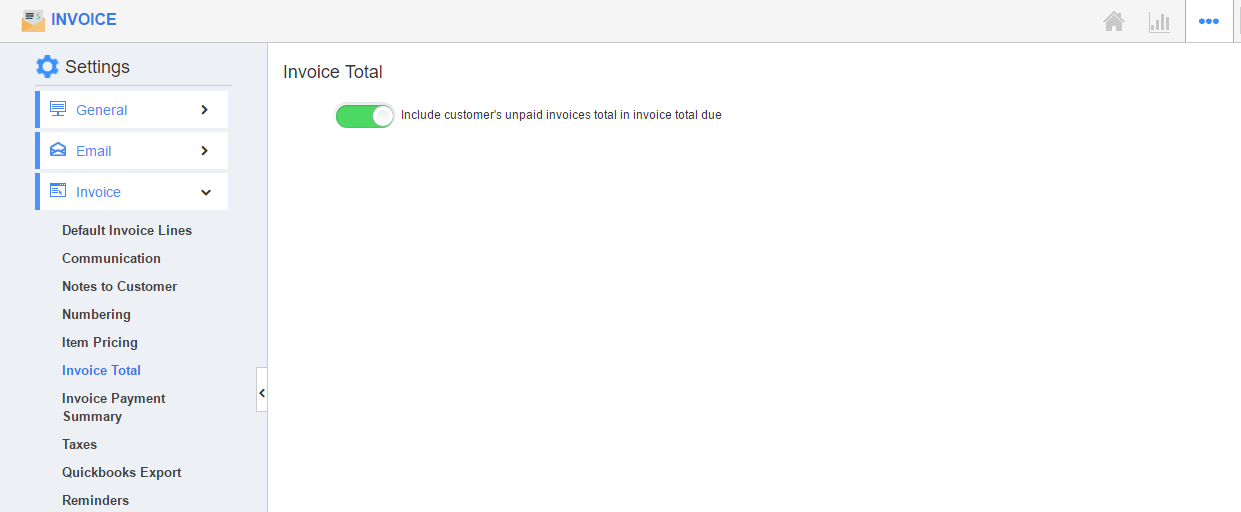 Invoice Payment Summary:
The invoice payment summary will show the list of details which is specified in the invoice. It will show the tax deduction,discounts,paid balance and the unpaid balance. If you do not want to show this summary to your customer you can disable the same by using this toggle button.

Well these features are notably important one for all the companies. We have some more amazing features in invoice v6 and we can discuss those in the coming blogs.
Invoices " Settings " Features
was last modified:
October 23rd, 2020
by