We have already released mobile CRM and Financial apps in IOS and Android mobiles. Now here comes the another exciting and best expense app for iphone, where you can create your own expenses and generate reports, keeping track of expenses effectively. The new features are very cool and can create & save the expenses any time with this mobile expense management app. These features are keenly developed to reduce the manual interpretation.
Loss of Expense receipts

No!! Uploading and capturing the receipts are made easy here and there is no way of losing any of your receipts. With Apptivo's best expense tracker app iphone, you can directly upload the receipts which is saved in the mobile or you can capture the image and add it to the Apptivo expenses app iphone. Usually the receipts are getting missed and due to that some of the expenses are not added and to avoid that we have released this cool feature. So the expenses can be created at an instant once the receipts are received, using the Apptivo's iphone expense tracker.
Can the unreported expense reports be changed to reported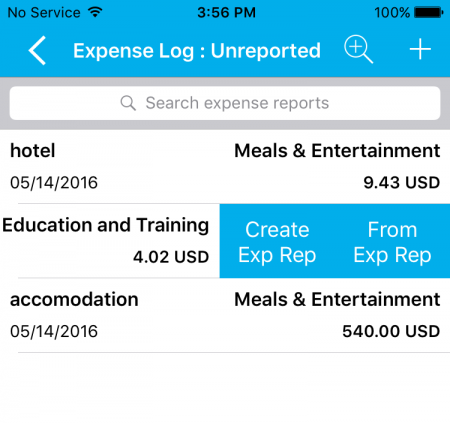 Usually the unreported expense reports are saved under the under this category. Wherein the expenses reports needs to be generated with the expenses and sent for the approval. Once you swipe on any one of the unreported expense two options will be displayed i.e, create expense reports or from expense reports. While you select the create expense report the new expense report page will be opened and you can give the necessary details and create it. For the from expense report option it will list the already created expense reports and you can select any one which you wish to add it to this expense.
Approvals are made easy
Basically the expense reports are need to be approved before sending it to the finance team for the processing. You cannot create the accounting rule in mobile, it will follow the rules which is created in the web. We can set the approval flow by using the accounting rule. The accounting rule is designed according to the criteria which is designed as per the approval flow. Also the priority score can be set and with that we can identify the approval type. You can download the expense report app iphone by clicking the below image.
So!! All in one go we can have all the details in our hand and can use this expense reports app anytime and anywhere.