We are very excited to announce our new mobile app, which will deliver the power of Apptivo's CRM system directly to your mobile phone or tablet! This will be the first mobile application built in our new technology, which will introduce each one of Apptivo's business applications into a single native app that can be installed on any device. This application will be available on both the Apple App Store, as well as the Google Play Store for our initial release to the public. Shortly after, Blackberry and Windows 8 users can expect to receive an app as well.
UPDATE: The mobile CRM app has been released to the public!
As you know, your employees are not always at a computer when they have a need to access or store business data, such as a contact's phone number. The last thing you want to do is be forced to store several different copies of contact data, or takes some notes in your phone, then remember to manually copy into your CRM when at a computer. In the worst case, you are going to end up with out-of-sync data or missed tasks, in the best case, this is just extra work for you to complete. To solve this, Apptivo is introducing a mobile application which interacts with your business data in real-time. No syncing tools, no forgotten leads, no headaches.
What features does the app offer?
The first version of the app will include all of your homepage dashboards from the web app, as well as the core CRM apps: Contacts, Customers, Leads, and Opportunities. Here is a quick summary of the features included:
View and post to company news feed
View and create appointments in your calendar
View and create tasks
View and create sales follow ups
Read and send email
Create, view, and edit contacts, customers, leads, opportunities
Store call logs in the CRM
Convert leads to customers, contacts, and opportunities
Record notes in all of the apps
Upload documents in all of the apps
The only features which are not available in the mobile app are related to configuration. You will need to perform all configuration within the web application, and these settings will apply instantly to your mobile apps.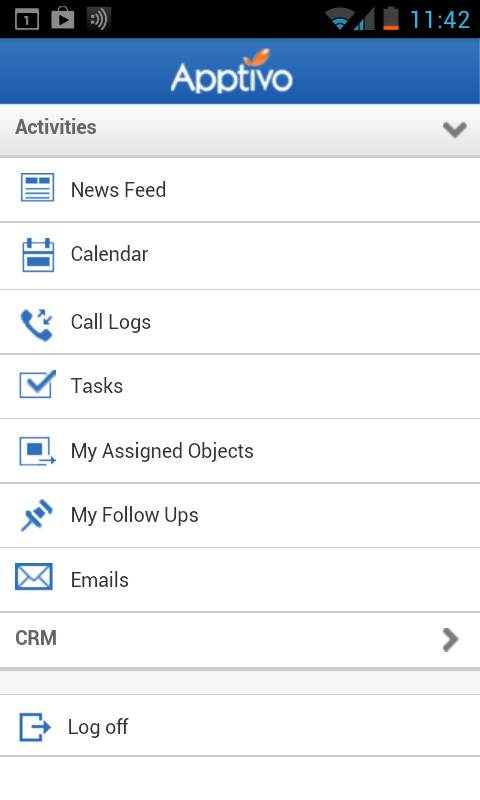 What devices does the app work with?
The first release will be available for any Android or Apple device. This same app will scale to the size of any screen, so either a phone or tablet will look great! Don't worry Blackberry/Windows users, we'll also be releasing mobile apps for those devices soon!
When will the app be available?
The short answer is, when it's ready. We want to make sure it's done right, so we're continually making enhancements until we are confident you'll love it. But, it is our current expectation to have the app live in the first week of April.
If you are interested in learning more, please fill the form below:
The mobile apps have already been released! See the link at the top of this blog for details on how to download.
Screenshots from the app
| | | |
| --- | --- | --- |
| Login Page | News Feed | Lead Overview |
| Lead Menu | Lead Conversion Flow | |