Introduction
Over the years, the healthcare industry is gaining prominence and becoming competitive. With many applications in the healthcare market, patients are highly informed, thus demanding superior and prompt customer service in the forthcoming years.
What is Healthcare CRM?
The healthcare CRM solution is a well designed software solution for healthcare institutions such as hospitals. Medical labs, research centers, clinics. etc With a healthcare CRM in place, the institution can better manage the patient information, the bills, patient history, the medical processes and procedures in an effective fashion. This will help them to keep up with the up-to-date client information. The healthcare industry can use this CRM to set up portals for the patients who need to create appointments and also paves a way for tracking those appointments. Healthcare CRM provides the necessary reports needed for the medical workflow to process seamlessly.
Benefits of CRM in healthcare Industry
With a healthcare CRM, the medical institutions can better understand the behavior of the patients, their diagnosis, what they need or demand and cater to those needs effectively and thus helps to build stronger relationships with them.
Healthcare CRM helps you to address the issues of the patients promptly, thereby enhancing satisfaction and providing superlative health management.
The medical staff can ensure quick and efficient response to the patient's queries hassle free.
The healthcare CRM helps administer the complete management of the patients' needs and demands.
The data present inside the healthcare CRM can be completely synchronized, which can be accessed by medical staff across different departments, whenever needed.
You can just spend minimal time and effort on resolving the patient's queries and thereby increasing the efficiency of the medical processes.
What exactly does healthcare CRM software do?
First we need to understand what exactly the CRM software does for the healthcare industry as a whole. With the right CRM in place, the patients can never miss appointments and the medical institutions will give the treatment promptly. The patients information and their appointments are logged and scheduled in the healthcare CRM. Also, the medical institutions can set reminders and notifications for the same. The health care CRM can be integrated with other marketing tools in order to send regular emails, or send messages without having to dial the patients manually.
The health care CRM is a repository of patient information:
The more you learn and know about your patients, the better you can serve them. With the health care CRM, you can log the patient details so that you can retrieve whenever needed. The departments in the medical institutions can access the patient information and provide them with superior service, ask for feedback and ideas, thereby increasing the patient satisfaction.
With health care CRM, you can discover trends among patients:
The medical institutions make informed decisions based on the data. A good practice is to enter patient information into the CRM system, this way the team will not miss on any information or misplace information. There are also some data points that can be fed into the CRM software automatically. With a good quality health care CRM in place, you can analyze and segregate the patient demographics, no-show rate, the typical patient lifecycle, how patients discover the medical services, the response of marketing messages and so on.
Healthcare CRM helps to uncover opportunities:
The CRM system includes the patients records and all of your marketing information. Having all the data into one centralized platform gives a complete view on the patient's journey and also lets you understand how to offer treatment opportunities based on the information available. You can uncover new opportunities and transform the patient's lives and simplify work processes with the help of a health care CRM.
Healthcare CRM helps track business success:
The medical institutions need to practice their businesses with utmost care and patience. They need to be aware of what's going on in the business and need to have a continuous pulse on everything that they do. The healthcare industry needs to forecast their revenue, measure their ROI and see if they are achieving their business goals in an efficient and effective fashion.
Top-most benefits of implementing a health care CRM
The main reason beneath the implementation of healthcare CRM is to improve the customer experience as a whole. In order to do so, you need to equip the employees, the physicians and the staff members, provide them with the appropriate tools and necessary information needed to close the gap, and expedite the customer journey. You need to give a complete training on the standards and benchmarks needed to enhance the experience. Also, a CRM will assist you in the process if used judiciously. Adopting a CRM and implementing it can be daunting in the start. Here are some valid key points that state the benefits of implementing a health care CRM.
Increased retention:
A missed appointment can lead to a loss in the count of patients. The health care CRM maintains all your appointments and schedules. With the right CRM in place, it keeps all your reminders, notifications, follow ups and schedules that keep patients intact.
Prompt record keeping:
According to a survey, many patients report a missing medical history in their documents during their doctor's visit. This might lead to problems as the doctors will not be able to treat the patients without the complete history in hand. Bad record keeping results in waste of time and resources. CRM maintains the complete history of the patients and reduces the chance of manual errors. The physician now has access to the complete patient information at fingertips. Hence they can provide their treatment and services hassle free.
Less chaos from the staff and other employees:
Health care is a very sensitive field and a small percentage of errors can risk a person's life. Hence the staff should be organized and well trained in order to avoid chaos.
Also, to check for data and other information they needn't juggle between different applications and stress themselves, instead can log in to the CRM and get all the information that they need to process work. A health care CRM helps to organize the day to day routine activities and also assigns tasks to various departments.
Limited manual data entry:
According to reports, 38% of health care costs are spent on administrative overhead. But with CRM, you can have almost everything automated. Thus you can save a lot of time, effort and money on tedious tasks.
Personalized Outreach:
The patients expect personalized touch and attention when it comes to medical services. You need to send automated emails often to check if they need any treatment. With CRM in place, you can segment the patients based on their medical conditions, treatment and other services. Personalized care will generate positive word of mouth and will help boost the relationship and customer engagement.
Top 10 health care CRM
The covid outbreak has caused a major shift in the digital environment. Even the medical institutions are finding ways to expedite their digital touchpoints. Without the digital infrastructure, it will be difficult to connect with the patients and the stakeholders. CRM is the best tool the healthcare industry can have , especially during this pandemic.
Listed below are top 10 health care CRM that you need to invest in to take your business to the next level:
1.Apptivo
Apptivo CRM helps healthcare managers to acquire, retain, and engage with patients and provide personalized services. This medical CRM is not limited only to hospitals but also to medical suppliers, financials, and pharmaceutical divisions of the healthcare industry. Apptivo CRM integrates customer's clinical, financial, and social details in a single integrated system. Apptivo offers dedicated applications like Contact Center, Contact, Customer, Supplier, Invoice, Events, and Call Logs to manage several divisions in the healthcare industry. Furthermore, the CRM has a built-in customer portal that allows patients to interact directly with the required staff and communicate their queries and grievances.
2.Netsuite CRM:
Netsuite CRM is popular among health care institutions. The platform allows healthcare organizations to have a single hub for all their B2B and B2C interactions. Netsuite CRM provides 24/7 real time service and saves a lot on administrative time and costs. The key features of this CRM include time tracking, case management, knowledge management, analytics and a customer portal.
3.Monday.com CRM
Monday.com CRM is an all one in business suite of applications. It is highly customizable and flexible to use. It is widely used by medical institutions. The key features include task management, team communication, patient management, customizable notification and workflow automation. The features help the health care institutions to effectively streamline their services.
4.CRM creatio
CRM creatio is a software suite of business of all sizes across varied industries. It is widely used by the pharmaceutical industry in providing superior patient care. It also offers a CRM database with modules for account management, contact management, segmentation, targeting and various other automation tools. CRM creatio integrates CRM with business process management features. This allows the institutions to modify their processes faster, more agile and in a more cohesive manner.
5.Zoho CRM
Zoho CRM is one of the popular platforms in the market. The CRM is widely used by B2B and B2C businesses. Zoho CRM is highly customizable and easy to use. One can track customer behavior using this CRM, which helps to deliver better patient care. The key features of zoho CRM include lead management, account management, workflow automation and analytics.
5.Zendesk sell
Zendesk sell is a CRM software with an intuitive user interface. It is used by healthcare organizations, pharmaceutical industries and medical devices companies. This software is known for its communication tracking and pipeline visibility features. The CRM software automatically logs all emails and calls in the system. The users can now keep track of customer interactions and the information related to those interactions.
6.Patient pop
Patient pop is a health care CRM and a medical practice management solution. It helps the healthcare industry such as clinics and hospitals to manage their entire patient journey. It provides tools to generate leads and manage relationships with the patient up to advocacy. The patient pop makes modules for reputation management, online scheduling, content marketing and has a customer portal available.
7.Hipaa CRM
Hipaa CRM is a cloud based CRM used in healthcare industries. This CRM solution provides dashboards and views where we can look into the treatments and sales pipeline. The key features of this CRM includes CRM document storage and sharing, web forms, API, custom views, CRM notifications, customizable CRM workflows and voice CRM with call automation capabilities. These tools help to bring the complete information about the patient's context and progress.
8.Enquire CRM
Enquire CRM is a CRM solution designed specially for post acute care and senior housing. This CRM is used by the senior living communities, hospice and palliative care and nursing units. It is a go-to application for more than 5000 senior health care organizations in North America. Enquire CRM offers features that are packed in a very intuitive user interface. This CRM includes features such as marketing automation, live chat, contact center and business intelligence.
9.Onpipeline
Onpipeline is a CRM solution that is used by health care institutions. The main modules of this CRM include managing hospital information, patient relationships, billing and call center operations. The features of this CRM includes email tracking, marketing automation, reporting tools, lead generation, file management, sales pipeline and quote management. This CRM platform is cloud based and can be accessed from any device, anywhere anytime.
10.Leadsquared
Leadsquared is a CRM platform that helps organizations acquire and maintain customers and patients. It has a powerful lead generation and scoring module with auto qualification feature. This CRM provides omni channel marketing communication tools to help nurture conversations and maintain healthy relationships. The other key features of this CRM include personalization, segmentation, marketing insights and sales analytics.
Conclusion
The Healthcare industry is a fast-paced booming sector where new technologies and innovation work along for the betterment of humans. Also, governments across the globe make it a mandate to make sure that healthcare reaches the grassroots level. CRM tools are popular for their versatility and are capable of being adapted effortlessly to serve any industrial purpose. Thus integrating a CRM in the healthcare industry can bring out a huge change in transforming the healthcare work processes.
TOP 10 HEALTH CARE CRM
was last modified:
June 27th, 2022
by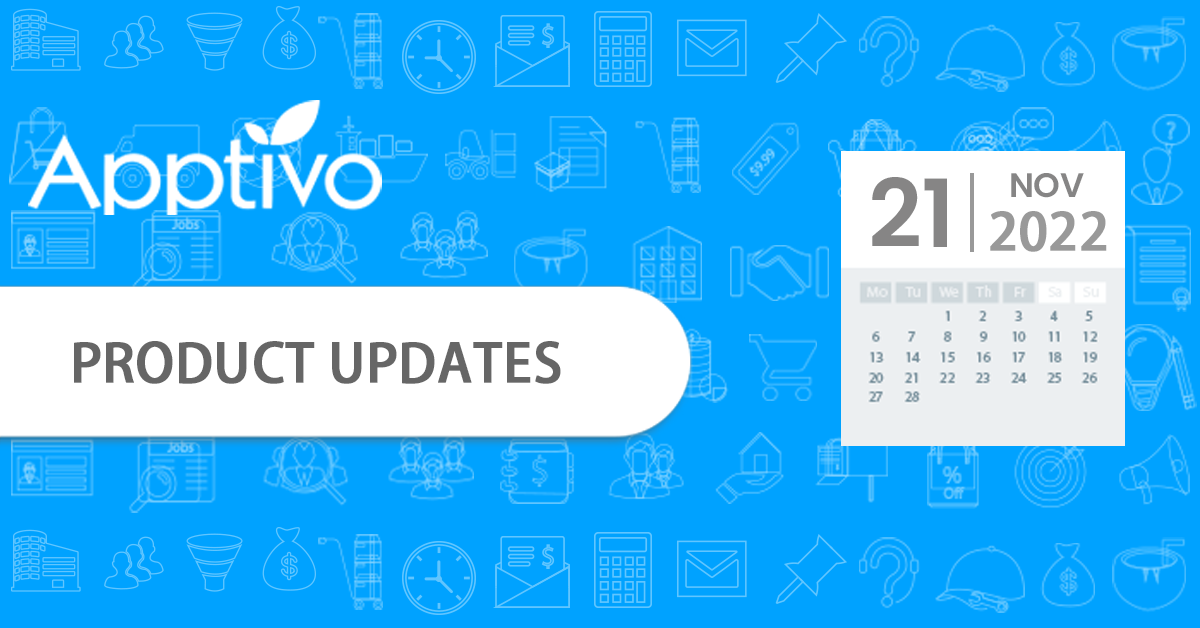 Apptivo Product Updates as of November 21, 2022
Any CRM should aim to advance your business and make work easier. That is why Apptivo develops innovative approaches to make your life easier by introducing fantastic features twice a month
Read more

→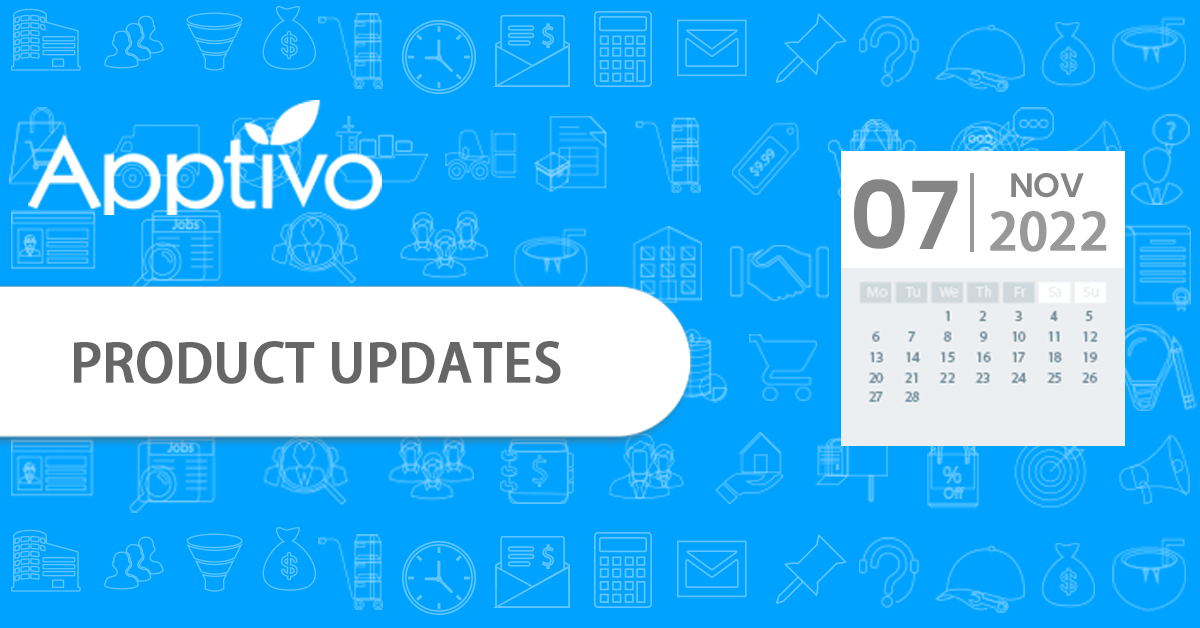 Apptivo Product Updates as of November 07, 2022
Early startups were raised on technology, and to stay up with the rapidly expanding business landscape, they must convert their workforce into digital technology while managing expenses. By providing a wide range of integrations and first-rate customer service, Apptivo is here to take care of businesses of all sizes
Read more

→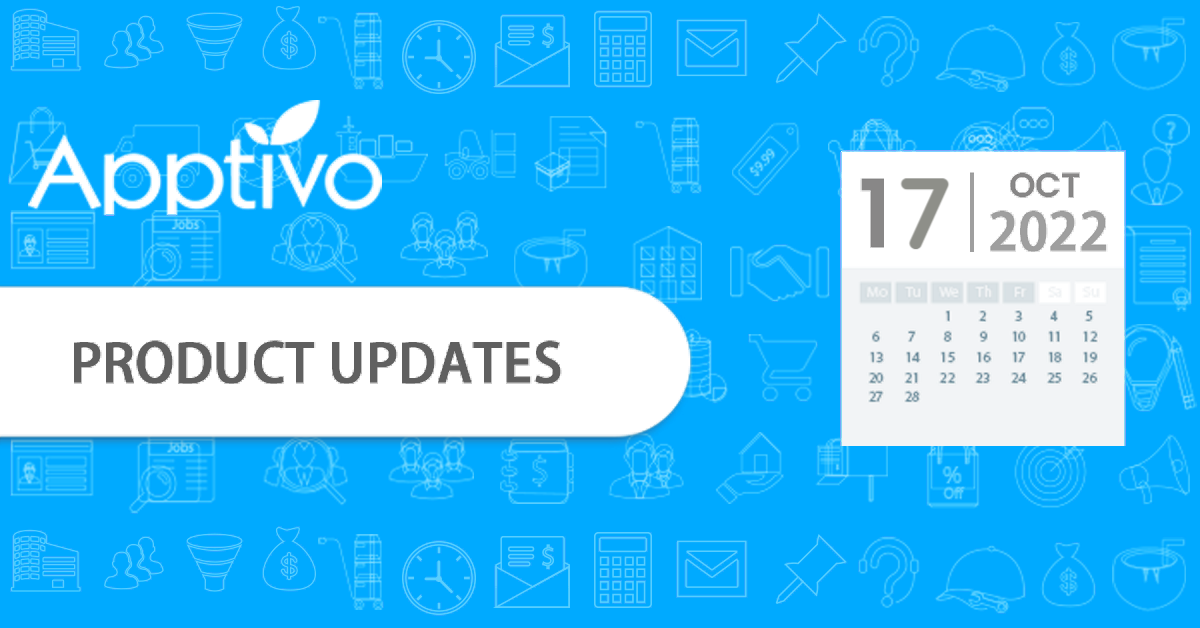 Apptivo Product Updates as of October 17, 2022
We're beyond thrilled to announce our new features this week! This further validates Apptivo as the go-to solution for your booming business. We're always enthusiastic when it comes to providing our customers with the finest features and boundless services
Read more

→