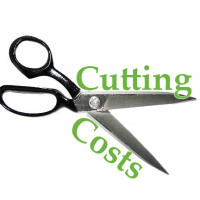 If you are a small business owner, then you know that every penny counts. Here are five ways to cut costs in business.
Introduce Telecommuting to your firm – Nowadays many employees prefer telecommuting as it gives them flexibility to their working hours. It saves them traffic time, fuel and vehicle expenses. The business benefits by not having to invest in office space, electricity bills, computers, and air conditioning are more reasons to allow telecommuting for your employees. Therefore, it is a win-win situation for both the business and their employees.
Use Social Media for Advertising – The Internet is a great avenue to showcase your company. It is present everywhere in the world and can be accessed at all times. With the increasing popularity of social media sites such as Facebook and Twitter, there exists golden opportunities for small businesses to reach out to large potential customers free of cost.
Introduce Cloud based applications- Cloud based services are growing in popularity at a phenomenal pace. Small businesses do not need to invest in server hardware and/or software. The cloud offers users anytime anywhere access, security and reliability. All these features are offered at an affordable price. Switch to the cloud and experience the difference.
Automate all operations – If your business is still using outdated methods such as paper invoices, it is high time you switch to the modern era. Invoicing clients is a critical part of all small businesses. Use simple yet powerful state-of-the-art invoice software such as Apptivo's invoicing system. This will convey professionalism to your peers and clients. Use e-mail to communicate instead of phones. One can have online organizers keep track of tasks, deadlines and meeting. Automating office work eliminates the need of papers and files, makes everything systematic and delivers considerable savings in terms of time and money.
Improve and Periodically Review your HR processes – If your employees are inefficient, so will be your business process. If your HR processes are good, you will be able to select the right people. Attitude is the single most important trait that businesses should look out in potential employees. A person with the wrong attitude will usually be unproductive, but worse yet, unmotivated. Do not hire people who need to be trained or do not possess relevant experience. Hiring talented people with the right attitude will boost the productivity of your small business. Remember, good employees may be pricey, but in the long run, your business will save money.
Implement the above cost cutting strategies in your business at the earliest. Also come with your own tips to cut costs and share them with others.