Usually, the cloud based applications are developed to help the small & medium base businesses with their needs. Our Apptivo is also one among the cloud based application designed to satisfy the user perception of business needs. In this blog we can check on how our apps are used in the ENT specialist centers,
ENT type of business:
ENT is the one who is specialist in ear, nose and throat care. The doctor's specialists in these areas are called otorhinolaryngologists, otolaryngologists. The most used applications for this type business are CRM, Financials and Marketing. Let's check below on how these apps are used in the real time business,
John comes to the ENT clinic for the treatment then his details can be tracked under the Customer's app. You can create his customer data manually with the specified details. This will act as a patient's database for future consultations.
You can track John's feedback in the cases app for any future business developments of the hospital.

Once after John is done with the consultation and the doctor has been advised to proceed with the higher treatment, then he requested the quotation of how much the treatment would cost. You can create estimate using the Estimate app and send it to John's email id.

After John's approved the estimate then you can convert the same into invoice and send the same to the patients to be get paid in any of the payment mode using Invoice app.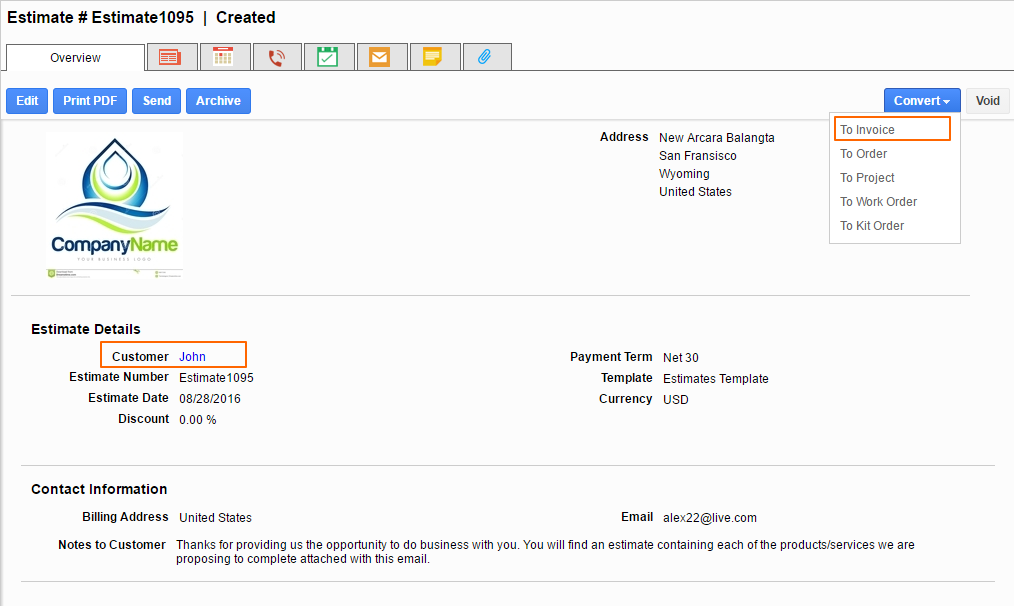 If you want to track the financial transactions of your clinic you can add those transactions in the ledger app and which can be used in the year end analysis.
To make your market familiar with the people around your particular environment you can use the Campaigns app. You can launch the campaigns and sent the marketing emails to the customers, contacts or leads to promote the business.
If you want to target any particular people for the marketing you can use the targets app which is used to list the contact, customer or leads informations to launch the campaign. You can also export it from mailchimp, sendgrid or constant contact.
We have also other apps which may help you according to your business size and categories,
Human Resources app helps to track your employees details, so whenever the employee is joined in the ENT clinic their details will be added in the employee's app. Also it to track the employee's salary details and holidays this app can be used.
Other Similar Business Types:
The above apps can also be adapted for the other types of business like,
Vision Experts
Optical Engineers
Dentists