It is the marketing department's responsibility to generate leads, qualify them, nurture them, and convert them into a paying customer. It is critical to engage the customer in a manner that is most relevant to them right from the initial contact and extending even beyond the first purchase. Engagement could be in the form of information, features, benefits, use cases, testimonials, whitepapers, relevant to the prospect. The objective is to establish a relationship and to build trust. Timely engagements will help sell, upsell, cross sell and grow the relationship with the customer.
Having said that, it is easier said than done, and it involves a continuous stream of communication at a scale that grows exponentially as the number of customers grows. As a result, businesses have turned to marketing automation solutions to engage with customers.
Marketing at scale
It is generally easy to manage marketing efforts without specialized tools at a small scale, but as businesses expand, managing leads that are continuously acquired through multiple channels becomes challenging. Thousands of leads need to be acquired, qualified and nurtured. Having the ability to plan and execute focused campaigns in order to reach, engage and convert targeted client segments helps businesses scale. Automation also helps in engaging with post-purchase marketing activities and can increase the value of engagements.
According to Invesp, 77% of marketers realized an increase in conversion rate due to automation.
What marketing automation does to your business?
Every marketing automation tool's primary task is to automate and streamline the tasks carried out by sales and marketing teams. Marketing automation helps create and implement lead generation and nurturing initiatives, as well as launch a variety of digital engagement campaigns, all from a single location, without being required to manually hit "send" or "launch" on each mail, message, and advertisement.
Businesses that use marketing automation reap a number of benefits across their entire operations and significantly their top-line and bottom-line. A powerful CRM solution with marketing automation increases the number of qualified leads, boosts conversion rates, and enhances productivity across sales and marketing departments.
As per nuclear research, companies show an average of 14.5% increase in sales productivity as a result of marketing automation.
What to look for in a CRM that offers marketing automation?
Specialized Marketing Automation Tools are available from a variety of vendors today, however, Marketing Automation alone isn't sufficient to deliver the value it promises unless it is coupled with a CRM solution. One option for small-to-medium-sized businesses, is to have a CRM which has a range of marketing automation features built into it. It avoids two separate subscriptions to manage and combines marketing and sales in one application. Investing in dedicated marketing automation applications makes sense businesses have specific needs or have big budgets. Let's look at the features to consider for the time being.
1.Lead scoring
Every interaction gives progressive insights into the interest and inclination and likelihood of the lead to convert. When properly captured, and by assigning predefined positive and negative values, lead scoring helps prioritize on more promising leads.
2.Email Marketing
One of the most popular ways to contact leads, prospects and customers is through email. When choosing a CRM, it should have email marketing functionalities like the capacity to develop personalized email templates, trigger various emails based on pre-defined circumstances or the activities of leads, schedule emails, run drip type campaigns, and also give access to analytics to measure the success of email campaigns.
3.Segmentation of audience
The marketing strategy's effectiveness depends on the ability to plan campaigns based on the precise requirements of leads, prospects and customers. A marketing automation CRM solution should be able to segment the customer database utilizing a mix of behavioral, demographic, location data, and other important factors.
4.Delight customers throughout the journey
Every person who interacts with the business starts a journey that takes them from being a lead to becoming a paying customer and beyond. By providing individualized experiences based on client data, marketing automation enables businesses to connect with customers at every stage of their journey. One of the most crucial elements that sets successful businesses apart from the competition is personalization.
Marketing automation using CRM – Best practices
1.Keep clean data
One of the most important things to ensure the success of marketing automation and CRM initiatives is to keep cleaning data. Over time, data can become voluminous and unwieldy. Endeavour to have only accurate, up-to-date, and complete data on customers and prospects.
2.Segment Prospects as well as customers
Another important best practice is to have preset segments of customers. Segmentation allows targeted marketing campaigns that are proven to yield results.
3.Use lead scoring
Lead scoring is a great way to prioritize leads and ensure that sales and marketing focuses on the most promising prospects.
4.Nurturing leads
Lead nurturing is an essential part of the marketing automation and CRM process. Targeted messages sent to leads build relationships and keep them engaged.
5.Measure results
Finally, it's important to measure objectives and key results that will help optimize marketing automation and CRM strategy. Keep track of key metrics and make adjustments to improve results over time.
Marketing automation with Apptivo CRM
Apptivo CRM enables marketing teams to run campaigns more efficiently and help deliver quality leads to sales. Apptivo CRM includes a variety of marketing automation capabilities built in, such as lead scoring, segmentation, email triggers, and email campaigns, to help streamline and automate marketing initiatives. Experience How Apptivo CRM can power your marketing automation activities with a free trial today.
Marketing Automation using CRM – Best practices
was last modified:
July 27th, 2023
by
Release Notes - September 27,2023
Our commitment to delivering top-notch software is unwavering. We understand that every piece of code can have its quirks, and we're dedicated to continuously enhancing your experience
Read more

→
Top 10 Customer-Centric Field Service metrics: What matters most?
1. What Are Field Service Metrics? 2
Read more

→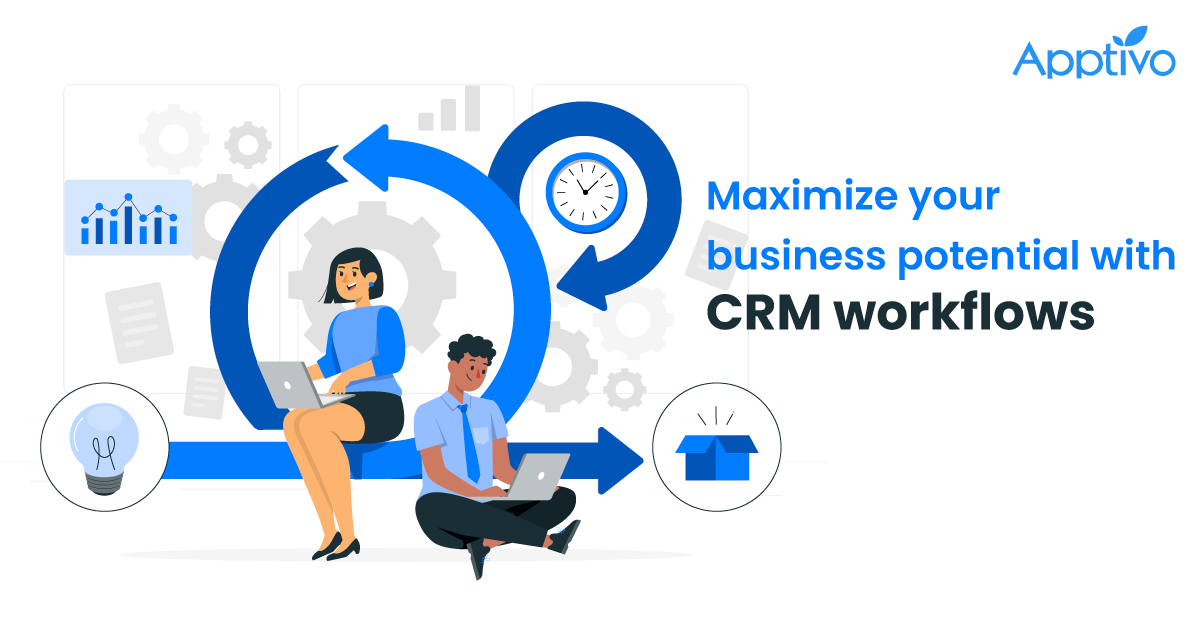 What is a CRM workflow? The Right Way to Boost Productivity and Sales
1. Understanding CRM Workflows 2
Read more

→