Introduction
When it comes to lead generation, a lot of channels can help generate more leads for your business. Be it a social media campaign or a television ad. What you need to know more is how CRM works best for the start up firm to grow their business. Before that, we need to know what lead generation is? Lead generation includes all the efforts required to capture quality leads , with due effort can be converted into customers. A powerful lead management CRM helps businesses by gathering leads from multiple sources and tracking their journey along the sales funnel.
What is CRM lead management?
CRM lead management refers to the process of converting your leads into customers. Leads are prospects who are seen as potential customers for your business. Once you have all the information about the leads, you have to know the right way to convince them to make a purchase from you. That's where lead management comes into picture.
Importance of lead management
It is important to know why your business needs lead management. Lead management is not easy and if it's not practiced properly, it can cost your business bigtime. Hence you need to know the importance and role of lead management in your business.
1.Focusing on the right leads
One of the biggest benefits of using lead management is that it helps the business to focus on the right leads. It can be done through sales qualified leads. You can easily differentiate between the qualified leads and unqualified leads. With the right lead management, you can invest your time in nurturing the qualified leads. The high value leads can be converted into loyal customers.
2.Improve the marketing strategies
Lead management will help behold the greatest platforms that generate the leads for your business. There are platforms which perform better than others and it depends on the type of business you are running. Knowing this will help you spend less on advertising and marketing the products or services.
3.Enhance the buying experience
Customers will be satisfied with the experience you provide them. You need to ensure that you are delivering superior customer experience along the purchase journey. Educate them about your offerings, discounts and other offers. Understand the customers and curate content for them to consume.
4.Boost sales and productivity
Marketing becomes easy when you separate the quality leads from the unqualified ones. You can tailor the marketing message and send campaigns to reach out to them. This way you can nurture the leads and help them convert into loyal customers.
Process of lead management
Lead management is the biggest assed if you know how to judiciously use it. You can pay more attention to the leads and help them convert which in turn will increase your sales numbers. You can draw in more revenue with lead management.
1.Categorizing the leads
Before generating the leads, you need contact information about the visitors / leads. This is where lead capturing comes into picture. You can draw interest and attention to your brand's offering by posting good quality content such as blogs, articles, videos, images on your website. The user might look at your content and might respond to the call to action in your webpage. This way they enter your funnel and become a lead. You can now have the contact details and other information related to the lead that might serve your purpose.
After having all the required information, the next logical step is to categorize those leads. You can segment the leads based on age, gender, interest, demographics. Etc., You needn't do any of this manually, as lead generation will do the work for you. The lead generation tool will help segment the leads and provide you with a list of qualified leads.
2.Lead scoring
After having all the required information, the next logical step is to categorize those leads. You can segment the leads based on age, gender, interest, demographics. Etc., You needn't do any of this manually, as lead generation will do the work for you. The lead generation tool will help segment the leads and provide you with a list of qualified leads.
You need to understand that not every lead will show interest as you approach them. And that is why you need to score your leads promptly. Lead scoring will need you to consider some of the key points such as how much the lead will be willing to pay, what need does the lead have, information about who's deciding to purchase, actual time frame required by them to make a purchase.
3.Nurturing the leads
Once the prospects show interest in your offering, it does not mean that they will make a purchase right away. You need to nurture them further, motivate them and make them aware of the benefits that you wish to offer through your products/services. This is one crucial step that might convert the leads into customers. Businesses use a wide range of strategies to convert the leads into customers.
4.Segment the email list
Customers expect the brands to send relevant marketing messages. However many businesses continuously make the mistake of grouping the leads and sending the exact same message to all of them. What will happen is most of them will mark those messages as spam. What you need to do is have a target list, segment them and curate content specifically to each list which will help you reach better. This is where email segmentation comes into play.
5.Email marketing automation
Email marketing automation is an important strategy which helps to nurture the leads. You need to have automation in your software which will send emails to your target audience automatically based on the triggers you set. This will save a lot of time and effort manually.
6.Insights and analytics
Collecting customer information is important for your business. Not everything you collect will be useful. It would be best if you have a nice strategy to use this information and process it further to make sound decisions. The lead management will help you collect valuable information about your leads. Thus you can focus your efforts on the quality prospects instead of wasting time on the unqualified ones.
7.Investing in the right CRM
Ultimately everything depends upon the CRM you choose for your business. You need to invest in a good quality CRM that suits the business needs and capabilities. Consider certain factors such as implementation, onboarding, data migration, updates, cloud storage, syncing data and third party integrations before choosing the right CRM solution. You need to depend on this software to build and nurture customer relationships. Hence you need to consider and choose the right fit for your business.
Benefits of CRM lead management
Generating leads is not an easy task, and hence having a CRM solution can help make the entire process super easy and valuable. With CRM, you can build consistent customer relationships throughout the entire customer journey and that is something spectacular. Here are some important benefits you can reap by using CRM software for lead management.
1.Simplify lead nurturing
Lead nurturing is a process of engaging the prospect with relevant content along the buying journey. This is an important and crucial step as this step will pave way for conversion. You need to devise a set of strategies needed to nurture the leads. With CRM in place, lead nurturing is done easily. You can keep track of the details of the prospective customers and walk them through the sales journey. With CRM, you are likely to engage with your prospects in a better way.
2.Track the sales process
With CRM, you can track the entire sales journey from the start to finish. You can create the sales pipeline and look at the sales stages in bird's eye view. You can keep track of how the sales are performing. You can also gather insights from the win -loss analysis. With CRM, you can generate the source performance reports which displays which lead generation metrics performs well and which ones are least effective. According to reports, a CRM can improve sales forecasting accuracy by 42%.
3.Enhance internal communication
CRM enhances the internal communication and makes it easy for the employees from different departments to converse and share thoughts with each other. CRM lets the in-house team discuss the leads and see how they are performing. This helps in strengthening the lead generation efforts.
4.Boosts workflow
One of the most important benefits that CRM offers is automation. You can save a lot of time and effort on this. As per reports, using an operational CRM increases the business efficiency by 73%. Automations work as per the triggers, actions and conditions you set. CRM has inbuilt workflow automation which helps in automating the entire lead nurturing process.
5.Improve lead conversion
The ultimate goal of lead generation and management is to increase the lead conversion rate. As per stats, CRM helps boost conversion rates by up to 300%. Businesses use CRM data analysis which helps to increase the conversion rate and adds value to the business. With CRM, you can definitely skyrocket your company's growth and ROI.
6.Increased customer retention
Retaining the existing customers is way more important than generating new ones. CRM can increase customer retention upto 27%. It is true that a 5% increase in customer retention will have a major impact on the company's profitability. With CRM, you have constant access to customer data which will help increase the customer support and enrich the customer experience, thereby increasing the retention rate by a significant percentage.
7.Better customer service
CRM allows you to personalize your interactions and enhance the customer service in an impeccable way. When emails and follow ups happen often and when the sales team addresses and fixes issues right away, the customer will be on your side. Improved customer service and buying experience helps to build loyalty and trust among the customers. With CRM, you can provide superior customer service and build superior customer relationships.
Conclusion
From prospects to loyal customers, CRM plays a major role in the entire process. You can better manage the contacts and with all the reports and analytics that you gather from the system, You can definitely convert the leads into customers. CRM acts like superheroes with almost everything automated. Hence invest in a good CRM software that will help generate and convert your leads into loyal customers.
Importance of CRM for lead management
was last modified:
June 28th, 2022
by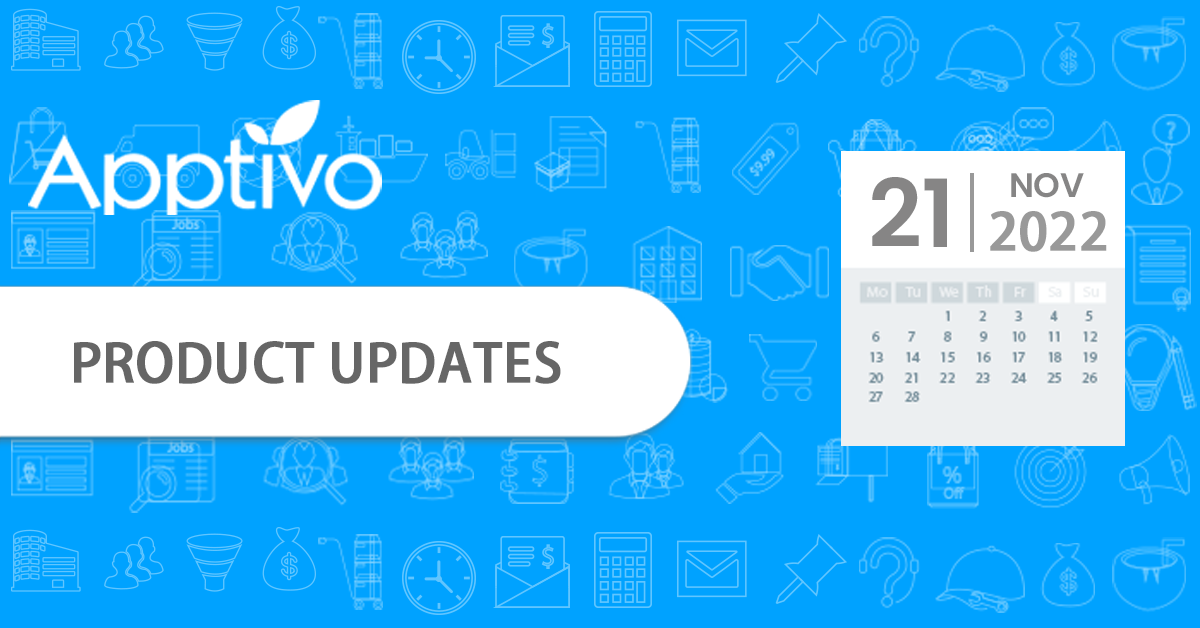 Apptivo Product Updates as of November 21, 2022
Any CRM should aim to advance your business and make work easier. That is why Apptivo develops innovative approaches to make your life easier by introducing fantastic features twice a month
Read more

→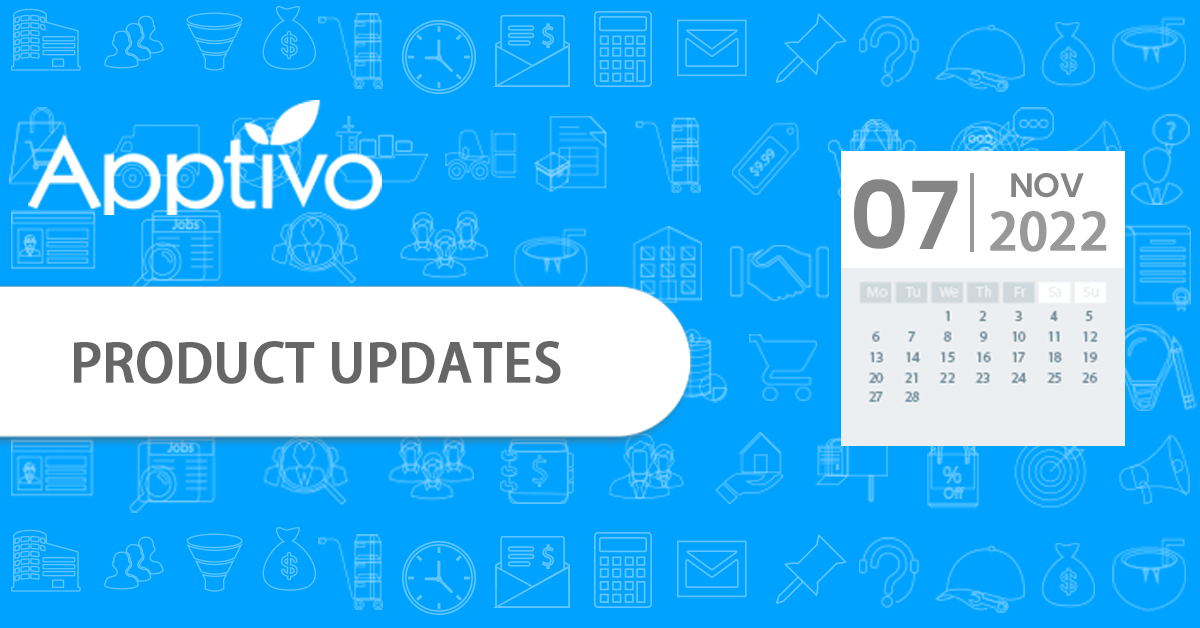 Apptivo Product Updates as of November 07, 2022
Early startups were raised on technology, and to stay up with the rapidly expanding business landscape, they must convert their workforce into digital technology while managing expenses. By providing a wide range of integrations and first-rate customer service, Apptivo is here to take care of businesses of all sizes
Read more

→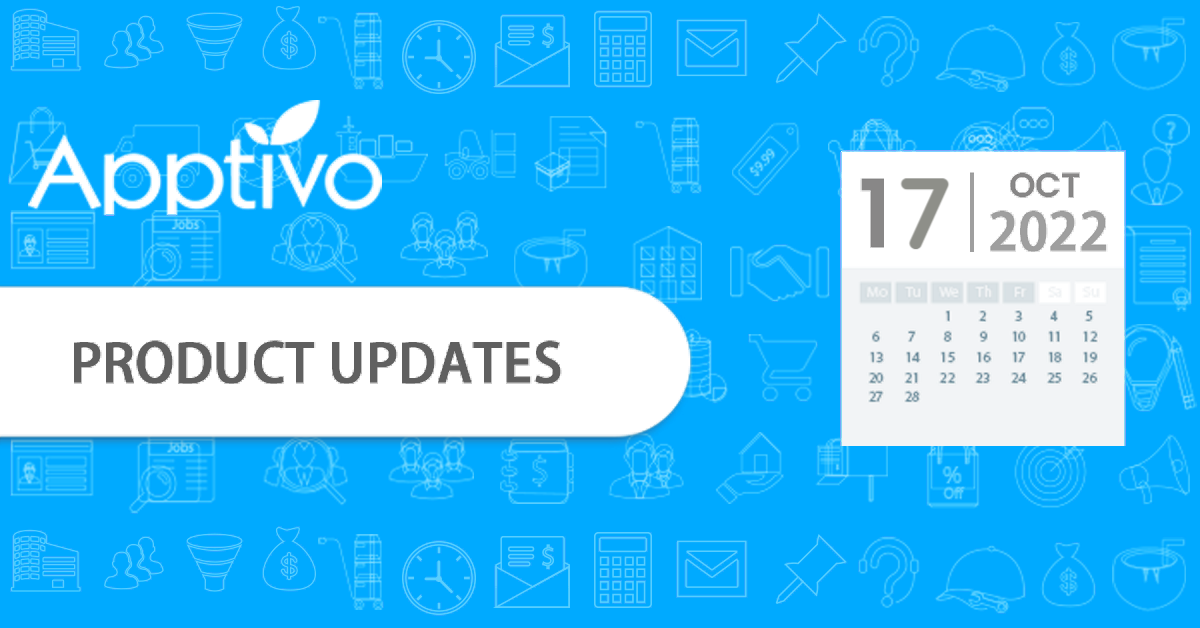 Apptivo Product Updates as of October 17, 2022
We're beyond thrilled to announce our new features this week! This further validates Apptivo as the go-to solution for your booming business. We're always enthusiastic when it comes to providing our customers with the finest features and boundless services
Read more

→