Internal Collaboration has always been the first priority of employers to optimize employees' performance and to increase productivity. How organizations work internally matters a lot for their productivity factor and increasing the market values. With Apptivo, you are facilitated with a collaboration toolkit containing resources according to your needs. Apptivo's suite of applications function by taking in different steps for you to increase your business productivity and optimize your employees' performance.
Tips to Improve Internal Collaboration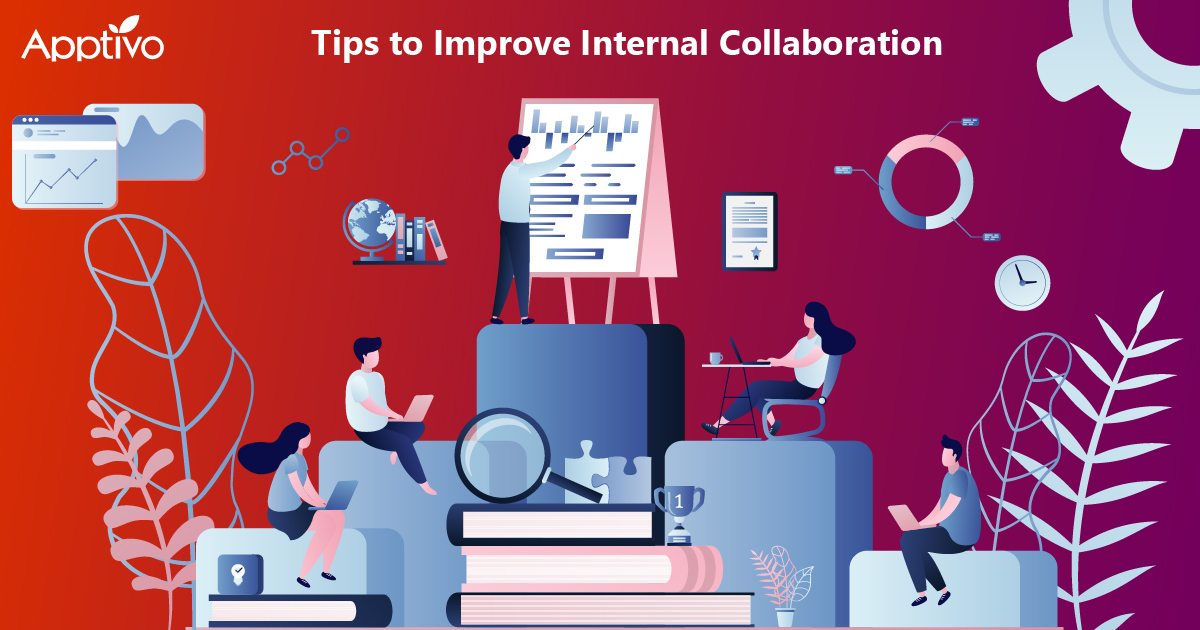 Upgrading Workflows

We need to improve our day to day business activities to get more productivity and yield better outputs. For this to happen, we first need to analyze our business routines and how exactly our employees approach different tasks. It can be done by assigning business teams with a variety of tasks and the relevant dates related to them. Those tasks could be concerned with the increment in sales or adding new clients to the business.

With Apptivo's leading class and affordable CRM system and integrated suite of other functions like Email Marketing, Projects, HelpDesk, eCommerce, and Billing you could easily set your business goals. By adding up tasks and monitoring their progress within the task timeline, we can easily make the most out of our businesses. Our CRM and Project Management applications provide the best solutions to your business needs, catering to a variety of issues within the corporate hubs.

Setting Business Goals

For increasing business productivity, and motivating your employees; setting goals for your business is necessary. Setting reminders or maintaining a calendar is a great way to do the same while ensuring employees' needs and ordering future tasks per their schedules. The changes result in employees getting periodic information and reminders regarding ongoing and future tasks.

Giving breaks to employees is also necessary, to ensure that their motivation remains intact. Apptivo's Project management and integrated CRM software also come with the Calendar app, providing you with the best methods to set business goals. With the Calendar app, you can set out business goals and get ready to achieve them.

Automation of The Business

Employees often reportedly react to repetitive tasks as one of the worst things they have to do in their job. The most common role is to send emails to clients and reach out to customers with several products and services promotion.

Implementing automation of processes is a great solution to this. With Apptivo's Email Marketing software, create a working application for your employees that could send out and react in the form of emails. Email Marketing software provides a platform to the employees that work by contacting customers whenever they visit your business website or it just does the marketing of your product by sending out automated emails.

Employees' Well-Being

Employees have to waste a major part of their time doing irrelevant tasks, such as reaching out to managers for small queries or contacting the customer information department for data regarding customers. This results in increased times of resolving the issues, leading to longer customer waiting times and eventually leaving them unfulfilled.

This could easily be tackled by shortening the time taken to resolve issues within the business chain. Apptivo's integrated CRM & Project management system provides you the feature to disintegrate bigger tasks into smaller ones, and reduce the time required to complete them. Resulting in greater quality of customer service as well as quick processing within the organizations. These measures could greatly improve business productivity and better working environments.
Apptivo's Integrated Use Cases
Our cloud platform has been adopted by different global organizations and we integrate our applications into their businesses to increase productivity and optimize their workflow. Many different platforms such as Google & Microsoft Apps have our integration and you can work with their apps in support with Apptivo to get our features into your working methods.
G-Suite Integration – Contact Sharing, Email & Calendar Syncing, Task Syncing with Google Drive storage.
Microsoft Office 365 – Sharing Documents, Syncing Email & Calendar, & Employee Portal with storage on OneDrive.
Slack – On-the-go Mobile Apps, Document Sharing, and channeled notifications.
Role of Apptivo In Internal Collaboration
With our suite expanding to a variety of apps, you can run your business effortlessly that yields greater results. Our apps include a collection of features meant to help your business function in a much efficient and productive manner. The integrated CRM & Project management software allows you to have a connected approach to both apps and get real-time functioning information of processes. Similarly, all of Apptivo's applications are connected to provide a range of features included in different platforms.
Major services offered by us include:
All aforementioned services are interlinked to provide a better approach to your business needs. Apptivo's platform provides several features among most of the common solutions such as CRM & Project Management.
Tasks, Calendar Events, Follow-ups – Management of tasks among different platforms is provided. You can effectively manage different tasks in the collaboration platform by setting out deadlines to goals.
Emails, Notes & Documentation – All the business-related work, such as an automated emailing system, leaving notes on tasks, and attaching important documents wherever required.
Newsfeed – You will gain insights into your business function with the help of Newsfeed.
Conclusion
Apptivo's cloud business solutions provide you with a better platform to improve business productivity and optimize the performance of your employees. You will experience an integrated solution to business needs with an advanced range of tools and features to provide you better insights into business and get involved with the process in a much detailed and efficient way.
Tips To Improve Internal Collaboration Using Apptivo
was last modified:
October 27th, 2020
by