Projects
was last modified:
December 1st, 2022
by
Apptivo Projects App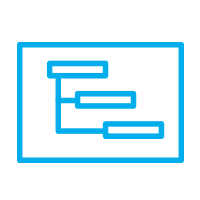 Project
Apptivo Project Management application has everything you need to track a project from scratch to finish. Easily create, share, and collaborate project activities and resources seamlessly. Plan and communicate with teams cost effectively, fix the rate for projects, and can disclose your documents, and exchange views among the team.
Application Features
Apptivo helps your team to seamlessly manage projects through the entire life cycle. Create projects newly from scratch and also from other existing projects.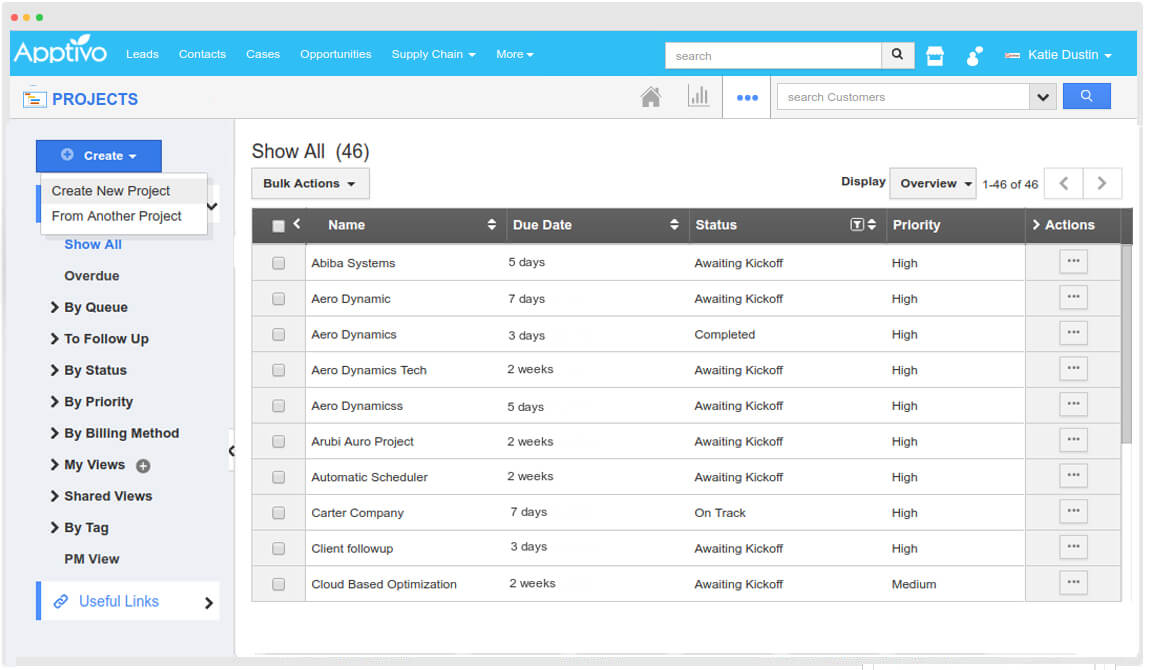 A beautiful interactive planning and scheduling tool, that shows the different tasks and milestones of a project, and how they relate to each other. You can have a view of the work in progress, at a glance and adjust the due dates by an easy drag & drop.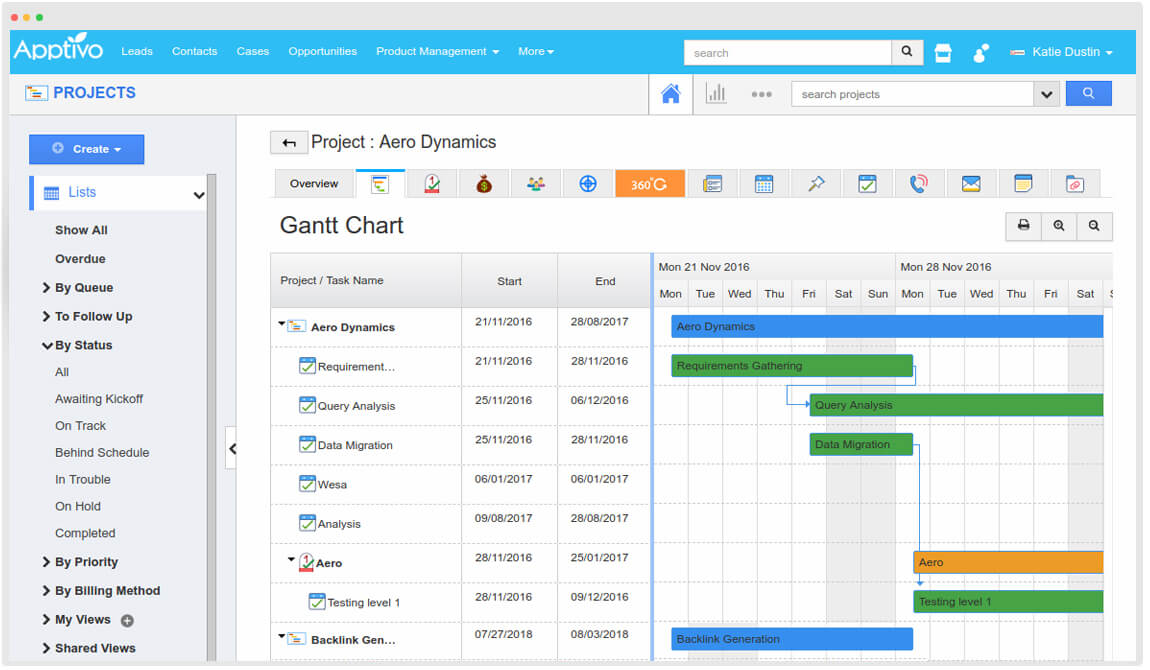 Offers an unlimited number of reusable templates to quickly launch new projects with ease. You can have predefined milestones in the project templates, which will be added into the project, when the template is selected.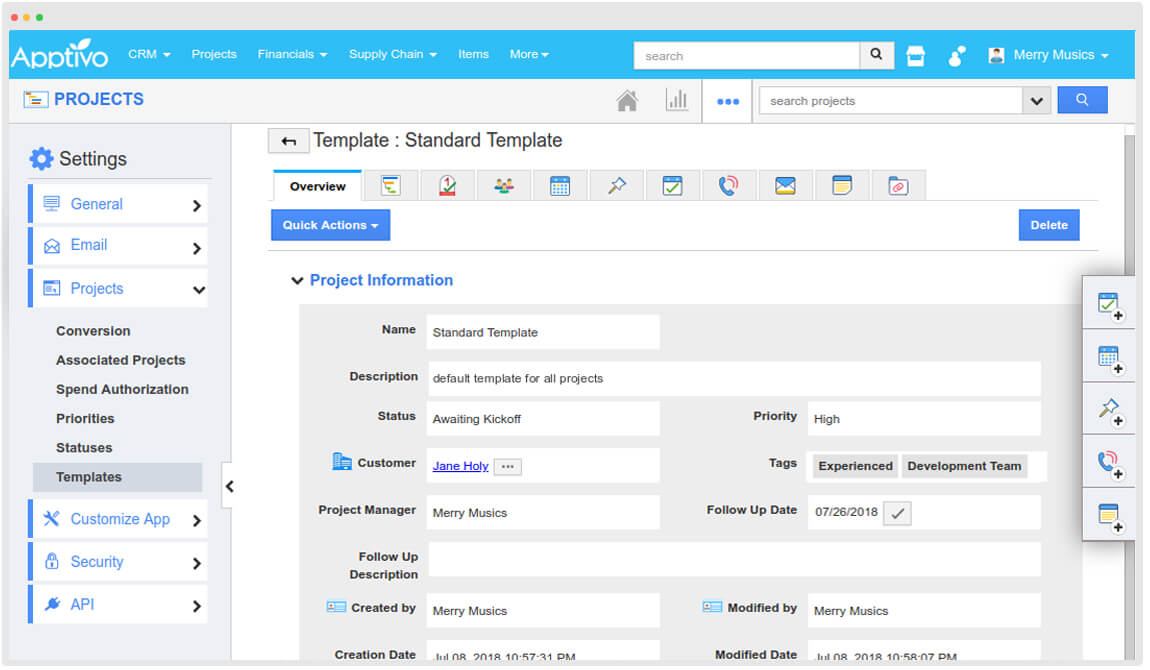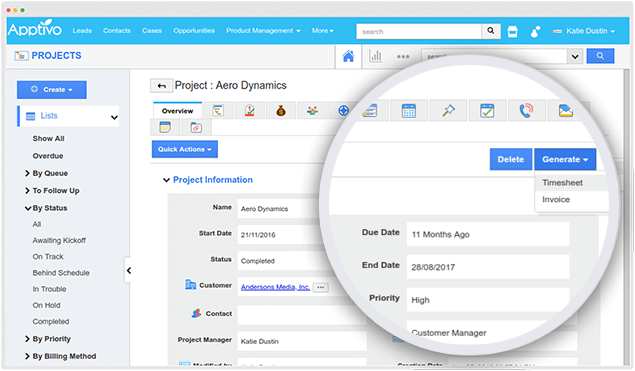 Effective Time Tracking
Offers real time task management, by recording time spent on projects and tasks. With integrated time management, you can record the time, generate timesheets, submit and get it approved instantly.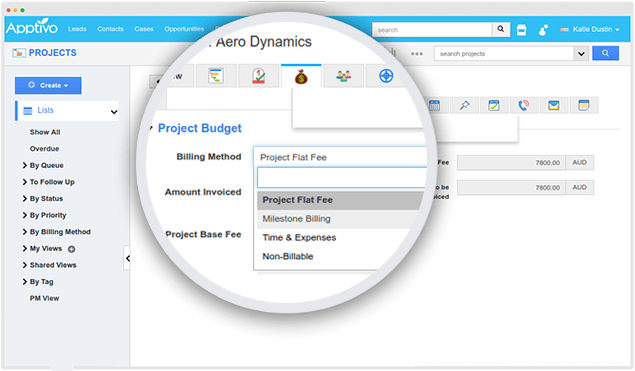 Project Billing
Provides a set of various billing methods - a flat rate or based on the hours you have spent or the milestones. Generate & email an invoice in just a few clicks.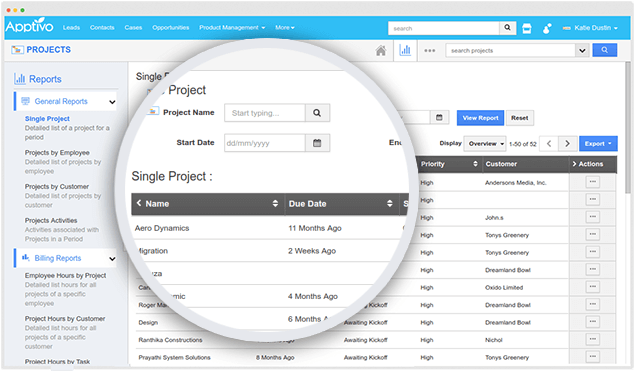 Project Reports
Easy one-click reports which you can export instantly. Various reports can be generated and can be exported externally. You can have real time access to all your projects, and monitor time, budget etc..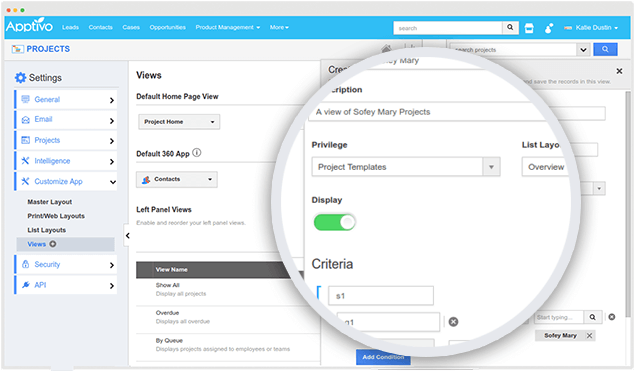 Customizable Views
Helps you gain visibility by having an organized view of your projects. Besides the standard views, you can also create your own views.
Integrated Applications
Projects App integrates seamlessly with the following applications

Projects     Requirements
All the requirements for a successful proceeding of the project can be created newly from the Projects App or existing requirements can be added to the project. Thus you can have a centralized view of all the requirements related to that project. Learn More about Requirements App
This Application is available in
Start a Trial / Book Demo
Apptivo provides a FREE 30 Day trial to all its customer to play around with the product and get to know if it suits their business. Apptivo also provides a 1 to 1 demo session to explain how you can use Apptivo for your business.