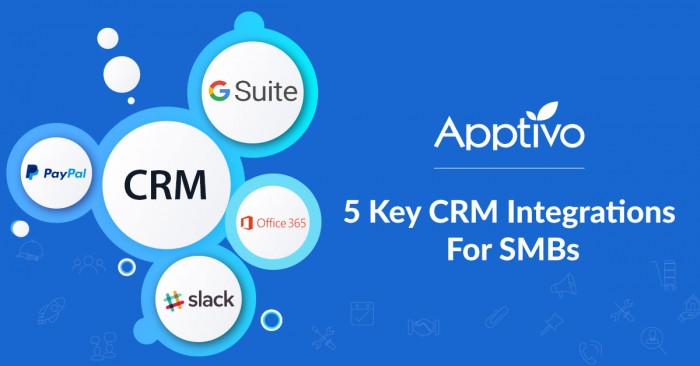 As businesses become more abundant in the market, only one thing can set them apart – their customer service. 86% of customers admit that they would pay more for better customer experience. Many business management software has entered into the picture that helps enhance customer service, CRMs are the most sought after. The CRM market is set to rise to more than $80 billion in revenue by 2025.
Integrations
Sales teams have been using disconnected customer management tools to control and interact with leads. They would use email marketing software to spread awareness, CRM to manage sales activities, quotation management to write proposals and send invoices, an IT help desk to manage customer complaints and each step would be brought together by a project management app. Each software required their own server space and had to be individually set up and learned. This made the entire system quite cumbersome.
Instead, a single integrated software that could handle each of these tasks would be much easier to manage. Integrated CRM software became a recent trend to patch up all the customer management into a sole application. This is a less resource-intensive, easy to handle approach to customer retention.
Omni-channel marketing is a step further in customer support. It allows you to offer the same level of service on any communication channel chosen by your user. For a successful omnichannel architecture, many external applications should be integrated with your CRM. But, this makes the software bulky and slow. Instead, Apptivo compiled a list of software that makes your sales easier without compromising the lightweight nature.
Stay Ahead of the Schedule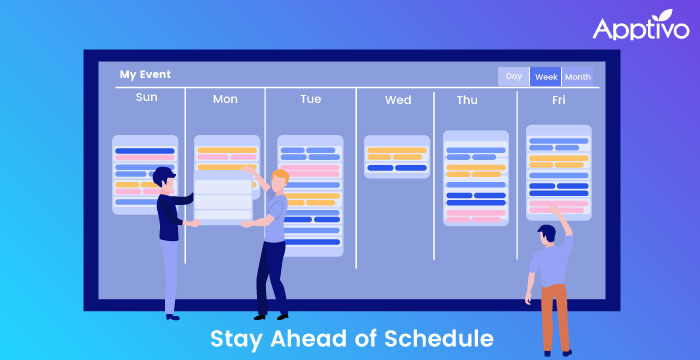 When dealing with customers, the date and time is extremely crucial. A buyer will expect things to be done by a certain time limit. Meetings, emails, and leads can be time-stamped and added to your task list. This allows you to stay on track with each customer interaction you have come up with.
Apptivo has integrated multiple GSuite applications that help you keep track of your upcoming tasks.
Google Calendar
A calendar application can help you stay updated on your schedules. Apptivo's CRM is already connected to Google Calendar. This automatically updates your calendar as you gain new leads and set up more meetings.
Google Tasks
Unlike the calendar tool, Google Tasks manages your day based on the daily tasks. Google Tasks notifies you of your activities so that you can be more productive throughout the day. It is essentially a to-do list that is directly integrated with your CRM.
Google Forms
Customers are often required to fill out a form to schedule a demo or plan an appointment. And constantly checking these replies and manually creating your task list can be cumbersome. The Google Forms integration can connect these forms directly with your CRM.
Connect with Clients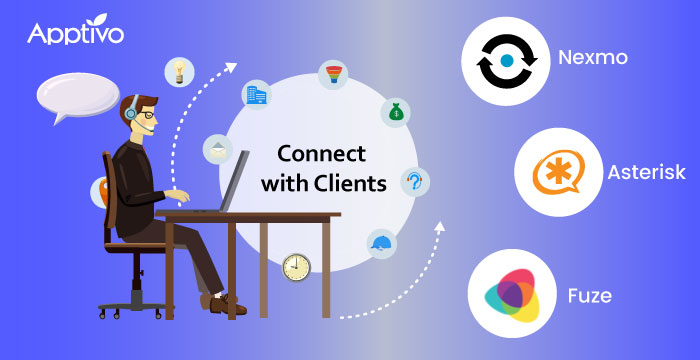 For marketing and sales, you will need to contact your customers. Today, you need to interact with your buyers constantly. Phone calls can get you the information you need in a heartbeat. But it can be overwhelming to record so much information on your client. So, your phone system should be connected to your CRM so that you can automatically record them. Apptivo contains many integrations that make this possible.
Nexmo
Allowing your sales team to manage inbound and outbound phone calls are made easy with Apptivo CRM that is integrated with Nexmo. This gives your team access to the Contact Center application to track and manage all the incoming, outgoing and missed calls with voicemails recording.
Asterisk
As the business grows, your sales team will get busier. They may need to answer calls on the go. Asterisk is an application that connects your office desk phone with the internet. With just an internet connection, you are set to receive calls from your client.
Fuze
The key advantage of Fuze is that it automatically creates call logs for both incoming and outgoing calls. Recording your calls can give you insights which you may have missed while you're unavailable. This can give you an edge over other businesses.
Keep Track of Important Documents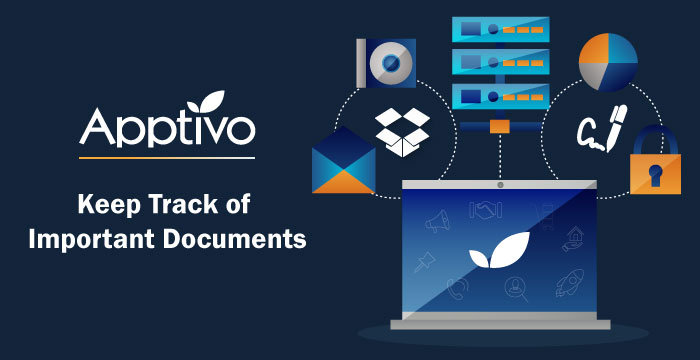 During the life-cycle of a business, many contracts, estimates, expense reports, or other documents are exchanged. These documents may be needed multiple times amidst a transaction. For this, you must keep them archived. Apptivo has integrated several external cloud-based storage applications for your ease of use.
Google Drive
This cloud-based storage tool is very widely used. Many customers apply this regularly. Google Drive is a secure and free storage unit that can be very easily used. The integration makes it easy to move documents to and from your CRM.
Dropbox
This individual cloud storage service is used by many businesses for file sharing and collaboration. Apptivo is integrated with Dropbox that allows the users to upload and save documents efficiently from multiple access points.
Sign.co
If you have clients overseas, you need to have a way to authenticate their transactions. Sign.co allows you to transform the entire process onto a digital platform. Now your customers can sign deals without having to meet you in person.
A to Z of Project Management
Project management is the crux of business. Using a tool can streamline the project and maximize productivity. It enables you to keep track of your employees progress and allows your employees to coordinate with each other better. With Apptivo's integrations, you can collaborate and stay updated on any breakthrough in your project instantaneously.
GSuite
GSuite comes with various tools that help in enhancing business. From email marketing to planning meetings, GSuite has a solution for everything. Having a CRM connected to this set of already high-quality tools takes customer service up a notch.
Slack
It is essentially an instant messaging app that helps you keep in touch with your employees and colleagues to stay up to date with the most recent business endeavors. By integrating Slack with Apptivo's CRM, you can work even when you're on the go.
Easy Transactions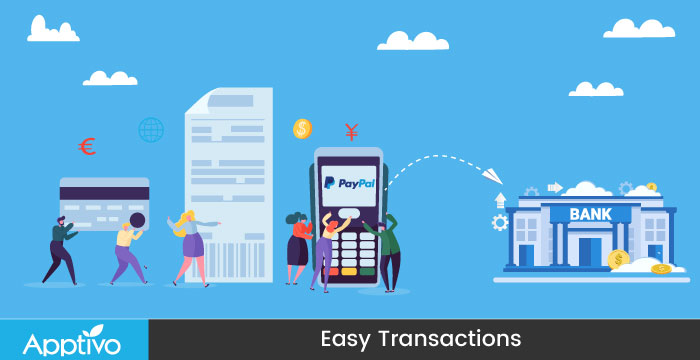 A transaction is the final step of a business deal. But they should be smooth and seamless too. Making your customers comfortable in transferring funds should be a priority. Apptivo comes with integrations that make this process secure and easy.
Paypal
This app can handle multiple currencies and manage overseas transactions. With PayPal integrated with Apptivo, your customers can pay you digitally through a fraud-free channel. Here, unlike bank cheques, the payments are immediate.
Bank Account
Apptivo also gives you the option to tie your bank accounts directly with their Invoice application. This gives you the leisure of managing your account from within the CRM, instead of constantly switching apps. This way you can even track your expenses with a budget tracker.
Wrapping Up
As you strive to deliver the best customer service to your patrons, you might find it difficult to do with a single software. But using multiple software is also not feasible. So Apptivo came up with a way where you can deliver excellent customer service by using a single integrated software.