We have more updates in this New Year, we released new apps and new features. We would glad to inform you that this week Apptivo released with three new apps: Purchase Orders, Payables and Supplier Invoices.  The Pricing App was upgraded to 4.0, giving it a fresh new look. Advanced Search and Reports sections were added to Suppliers, Candidates and Recruitment apps. A change has been made to the Google contacts sharing integration for standard plan users, who will now be able to share contacts with ten (10) users only. In the Contacts App, users can now "tag" contacts with multiple categories. Category tagging makes it easier to search and filter your contacts. As usual our consistent improvements like fixing bugs, improving performance and user experience were all the part of this week's release.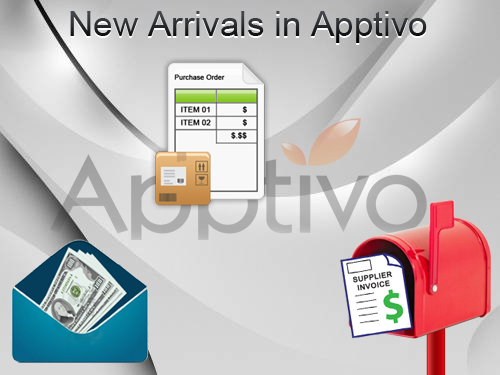 New Business App Features
This Monday we added the following new features to Apptivo:
New apps added into Apptivo

A perfect new looks to the Pricing app with version 4.0.
Advanced Search, Reports section & By Queue added to the following apps,

Added Gantt chart in Projects App.
Follow up description field added to Opportunities and Leads app.
Customer Payments app renamed into Receivables app.
Contacts Sharing: Standard plan users restricted to share contacts with ten (10) users only.
Assign a contact with multiple categories.
Business Tools Fixes
This Monday we fixed the following issues in Apptivo:
Fix for notes formatting.
Fix for uploads in CRM Apps.
Global fix in CRM apps for minor bugs.
Performance improvements in the following apps.
Upcoming Business Solutions
Next release we will make the following updates to Apptivo:
Homepage version 4.0

All the Apptivo apps are releasing with version 4.0 in a faster pace adding to it we are releasing Homepage with a fresh look with version 4.0.

Email Sync between Google and Apptivo

Long awaiting feature, Sync your email between Apptivo to Google and vice versa.

Follow-up Calendar

All Schedule Follow up from the CRM apps will be available in follow-up calendar for easy view.

Following features will be added to Pricing, Supplier Invoices, and Purchase Orders:

Advanced Search
Reports

General Improvements to these apps:

Projects
CRM
Invoices
New Arrivals in Apptivo: Purchase Orders, Payables and Supplier Invoices – Dec 29, 2012
was last modified:
October 23rd, 2020
by